Professional News
New Directors of MPP and MPA Programs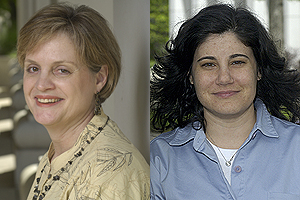 Alison Jacknowitz and Jocelyn Johnston have been appointed as the first directors of the Master of Public Policy and the Master of Public Administration Programs, respectively, within the Department of Public Administration at American University's School of Public Affairs.

"These new roles demonstrate the importance we place on our MPA and MPP programs and our intentions to keep them at the forefront of graduate education in public affairs," says William M. LeoGrande, dean of the School of Public Affairs.

Program directors will provide guidance in curriculum development, admissions, and graduate placement for the program, ranked No. 6 in the nation by U.S News & World Report.

Jacknowitz, assistant professor of public administration and policy, conducts research on issues related to poverty, income, and food assistance programs, health outcomes, the elderly, and children and families. Jacknowitz's research has appeared in a variety of scholarly journals, including Contemporary Economic Policy, Demography, Journal of Policy Analysis and Management, Pediatrics, Social Service Review, The Journal of Human Resources, and Women's Health Issues.

Her research has been funded by the University of Kentucky Center for Poverty Research, the United States Department of Agriculture, the Institute for Research on Poverty, and the National Institute of Child Health and Human Development. She is also a research affiliate of the National Poverty Center at the University of Michigan. Her teaching interests include social policy, program evaluation, empirical analysis, and policy analysis. She received the School of Public Affairs Award for Outstanding Teaching in a full-time appointment in 2005-2006. She has a PhD in policy analysis from the RAND Graduate School and an MPP from the College of William & Mary.

Johnston, associate professor of public administration and policy, joined the AU faculty in 2004 after teaching in the MPA program at the University of Kansas for 11 years. Her current research focuses on government contracting. Her work on contracting and on intergovernmental policy and administration has appeared in leading public administration journals, including Public Administration Review, Journal of Public Administration Research and Theory, Administration & Society, Publius: The Journal of Federalism, and also as chapters in several edited volumes. Johnston has extensive practical experience, having served for 10 years in local government administering federally and state-funded social welfare programs.  

Johnston is a corecipient of the Kaufman Award for the best paper in public administration presented at the 2001 American Political Science Association, was selected as a vice chancellor's administrative fellow at the University of Kansas, was appointed by Governor Bill Graves to the State of Kansas Advisory Council on Intergovernmental Relations, and was chosen as the New York State Government Finance Officers Association scholar of 1989. She is a former chair of the National Association for Budgeting and Financial Management. In addition, she was a field researcher for the Rockefeller Institute of Government's State Capacity Studies, and has served on executive committees and editorial boards for several leading professional organizations and journals. Johnston holds an MPA and a PhD in public administration, both from Syracuse University.