Research
NSF Expert Shares Tips, Tricks for Landing Grants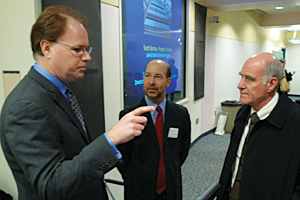 Jon Gould, director of the new Washington Institute for Public Affairs Research (WIPAR)—which helps faculty identify funding, assemble research teams, and navigate the grant writing process—wasted no time getting to work.

A short six weeks after joining AU's faculty, Gould, a lawyer and social scientist, has helped four faculty members land funding. Under his direction, WIPAR, housed in the School of Public Affairs, has also received a $120,000 evaluation grant—and he hopes that's just the beginning.

"We aim to create a community of scholars within SPA and across AU who can collaborate on research that is interesting to those who study public affairs or practice in the policy communities," said Gould.

On February 16, WIPAR hosted Scott Barclay, program director with the National Science Foundation (NSF), who offered tips for writing winning proposals. More than 100 faculty, doctoral students, and administrators, including Provost Scott Bass—who has challenged AU to establish itself as a leading research institution—attended this first in a series of workshops that Gould dubbed "research therapy" sessions.

With its annual budget of $6.9 billion, NSF is the funding source for some 20 percent of all federally supported basic research conducted by America's college and universities. The foundation, based in Arlington, Virginia, doles out grants based on two criteria: intellectual merit and impact on the community.

"We're interested in moving knowledge forward," explained Barclay, who works in the law and social sciences division. "NSF is very good at passing out money to researchers as quickly and painlessly as possible."

In addition to the standard research grants that are its bread and butter, NSF offers a variety of awards, including:

support for undergraduate research and doctoral dissertations
early career development awards that fund work by rising, untenured faculty
workshop awards that bring together academics who work in the same field to discuss their research and collaborate
RAPID grants that help researchers on the ground immediately following catastrophic events like Hurricane Katrina and the BP oil spill
The application process takes about six months and includes assembling a panel of experts to review a project's merits.

According to Barclay, most proposals are rejected for these reasons:

relies on the principal investigator's reputation alone
unclear connection between the question to be investigated and research activities outlined in the proposal
insufficient detail on research design and methods
too many disconnected questions
not feasible: gaps in expertise, access to site of research or subjects, overly ambitious
limited theoretical advancement or incremental contribution to science
While NSF funds just 9 to 10 percent of the proposals they receive, Barclay encouraged researchers to apply because:

the process forces careful thinking about the project
reviews and panel summaries provide useful information that can strengthen research in the future
experts in your field become aware of your project
to gain insight on expected responses of reviews regarding future publication
For more information on WIPAR and upcoming "research therapy" sessions, visit www.american.edu/wipar.