On Campus
Panel Explores the Life and Impact of Saul Alinsky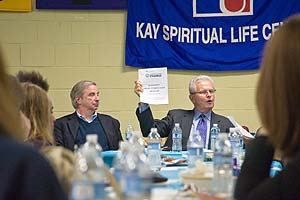 Saul Alinsky died 37 years ago, but he's never been this famous.

So said Sanford Horwitt, author of Let Them Call Me Rebel: Saul Alinsky, His Life, and Legacy. Horwitt, who met Alinsky in 1966, was one of four experts on the panel, "100 Years of Community Organizing: Alinsky to Obama and Beyond," a Nov. 4 event that was part of Human Rights Week.

Alinsky was an urban populist who generally is considered to be the father of community organizing. He championed many causes, including the improvement of living conditions in inner city ghettos.

"What Alinsky accomplished in a Democratic society was as important as what any person in any profession could be about,' Horwitt said. "A big reason Alinsky has been rediscovered is Barack Obama."

Joining Horwitt on the panel were Arnie Graf, senior organizer, national staff, Industrial Areas Foundation; Coleman Milling, senior organizer, Washington Interfaith Network; and Bruna Genovese, associate organizer, Virginians Organized for Interfaith Community Engagement (VOICE). It was moderated by Pat Griffin, the academic director of the Public Affairs and Advocacy Institute for the Center for Congressional and Presidential Studies.