Student Success Story
SPA's Kilraine Hones Global Experience with MPP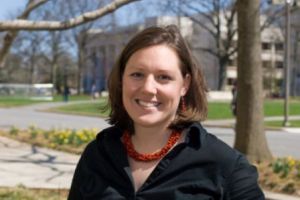 A magna cum laude Brown University grad who spent semesters abroad in Spain, Australia and France, Lacy Kilraine made the most of her stint as a Peace Corps volunteer in Honduras. The go-getter facilitated community projects in areas as far-ranging as gender equity, rural tourism, leadership, civic education, organic farming and political participation. But Kilraine realized she didn't have the skills to take her service to the next level.

"By the end of my time in the Peace Corps, I already decided I wanted to go back to school. As much as I loved my time there, I was frustrated," said Kilraine. "Anybody can do community service, but I needed to have technical skills."

SPA's MPP program has given Kilraine the broad range of skills she needed to complement her real-world experience.

"You're encouraged to take courses that don't fall in a particular track. I have been able to craft my own concentration with classes from SIS," said Kilraine, who modestly claims a 4.0 in her graduate studies, as she did at Brown. "They also give a lot of ground-up support to student ideas and activities like the Alternative Winter Break I'm organizing."

As part of her merit award, Kilraine was offered a graduate assistantship, and asked to work with a professor involved in gender and development issues. Kilraine got what she asked for: a position with Karen O'Connor, director of the Women and Politics Institute. 
One of her primary tasks has been to oversee WPI's weekend classes as part of its Women, Policy and Political Leadership certificate program.

"I got to organize these really great lectures from top-notch speakers. But practitioners aren't academics – they don't know the type of readings to assign, how to write a syllabus – so I guided them through the course process," Kilraine said.

Kilraine also assisted O'Connor in teaching a year-long honors colloquium, which took her into the unfamiliar territory of film production.

"Karen decided that people didn't know enough about the Equal Rights Amendment, and that the best way to teach it was to have a class to make a documentary on the issue. None of us knew anything about filmmaking. … It was very challenging but I learned so much," Kilraine said.
Last summer, Kilraine put her new talents to work in organizing a summer institute on the global politics of energy for the prestigious Aspen Strategy Group, which is part of the Aspen Institute, a think tank on international issues.

"It was hard work, some nights working until 11 or 12, but it all paid off. I got to meet Madeleine Albright, Jim Woolsey, and Dianne Feinstein," she said.

Never one to sit still, Kilraine's current pet project is organizing an Alternative Spring Break to Colombia. The 11-day trip will focus on civil society's reaction to the conflict, and will allow students to witness grassroots community development firsthand.

"The idea is learning by solidarity, with a big emphasis on coming back and advocating for some kind of change in policy, which will be more effective than doing a service project there," said Kilraine. In many ways, the trip neatly ties together Kilraine's skills and interests, which all converged in an SIS class she took on peace processes in Latin America.

"Public policy, conflict and gender are all very related to me. In Colombia's conflict zones, women are filling the role that government should play through policy," she said. "When I graduate, I really want to work in or with Colombia to create more participatory policies. This is a lot of what I learned in Peace Corps – you can't impose policy; you have to involve the people."