Alumni Profile
Ann Mangold, SIS/MIS '12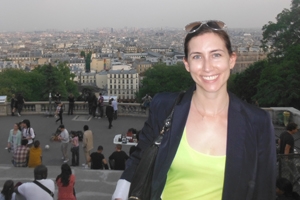 Why I chose MIS:
I chose MIS because of its location in Washington, D.C. and the excellent reputation of its faculty as well as the School of International Service. I think close proximity to the nexus of politics and decision-making creates unmatched opportunities for students who study in D.C. I also liked the idea of having classroom interaction with fellow students who had a variety of experiences, from the private sector and government to NGOs and international development.
How I make a difference in the world:
I'm currently completing a Presidential Management Fellowship with the Department of Labor, Office of Public Affairs. The Labor Department's mission focuses on promoting, developing and improving work opportunities for job seekers and wage earners. In addition, the department also works on preventing, mitigating and eliminating international issues such as human trafficking and forced labor. Although it sounds cliché, I really do feel like I'm contributing to making a positive difference in people's lives, whether it's making workplaces safer or helping to raise the minimum wage – these are things that matter, and I'm proud to be a part of it.
How MIS has made a difference in my world:
Through MIS, I formed a solid network of mentors, professors and friends who have offered invaluable advice and support in my professional pursuits. I feel lucky to have met such an intelligent and inspiring group of people. My time at MIS also helped me to secure my first post-grad school job, which was a great opportunity with a media company in Kabul, Afghanistan, which I learned about through a fellow MIS student.
Field of study:
The great thing about MIS is that there are very few required courses, which allows students to choose most of their electives to focus on key interest areas. It's sort of like a "choose your own adventure" for graduate school. I chose to take courses primarily in international security and foreign policy, with a regional focus on the Middle East.
SIS activities:
Outside of class, I completed internships with the Women's Foreign Policy Group, The Moshe Dayan Center at Tel Aviv University and The New Yorker. I found these experiences to be extremely valuable because they provided practical insight into the issues I studied and helped me to explore possible post-graduation career options, as well as meet some very interesting people in the international relations field. Additionally, I spent time getting to know my classmates and professors. Not only have many of my classmates become close friends, but they also have served as an automatic professional network.
Languages:
Working knowledge of Spanish and Arabic. I also learned basic Dari (a Farsi dialect) while living in Afghanistan and found that immersion is the best way to learn a language quickly.
World issue of interest:
I don't have a particular issue that I'm focused on, but I would say that anything related to education/literacy for women and children (particularly girls) is of interest. I am also interested in increasing foreign policy understanding and engagement amongst Americans. It seems fewer and fewer are involved or aware of what's happening in domestic politics, let alone the rest of the world.
Professional role model:
My mom. She set a great example for my sister and me of how to balance a career with having a family/personal life. It must have been extremely difficult, but she never complained. I find this especially amazing since she taught first grade for 36 years – it can't have been easy to manage a classroom of six-year-olds all day and then come home to run a household.
Favorite book:
That's a tough choice. The first book that comes to mind is Skeletons on the Zahara by Dean King. It's a true story that recounts the experiences of American sailors who were shipwrecked off the coast of Africa in 1815, captured by desert nomads, sold into slavery, and subjected to a hellish two-month journey through the Sahara. It's a fascinating portrayal of human courage and resilience.
Favorite movie:
"The Lives of Others." Set in the early 1980s, it follows the monitoring of East Berlin residents by the Stasi. I like films that are grounded in real-life events. I also love the movie "Working Girl" with Melanie Griffith. It's a classic "girl power" movie.
Current residence:
Washington, DC