Alumni Success Story
Alumni Highlight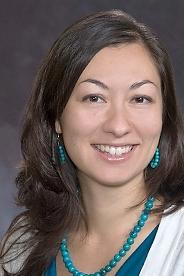 Within the American University community, there are some individuals whose impact carries across multiple spheres, but Elli Nagai-Rothe (MA/IPCR '10) has managed to plant important seeds during her three and a half years at the University that will certainly grow into a long-lasting and far-reaching legacy at AU. Both a student and a staff member, Nagai-Rothe has served as President of the Dialogue Development Group (DDG), coordinator of the Mohammad Said Farsi Chair of Islamic Peace and instigator of the IPCR Coalition for Diversity and Inclusion, all while completing her master's degree.
Next semester Nagai-Rothe will take theses lessons, and the energy she has shared with the IPCR program, to New Zealand where she will utilize funding from a Fulbright Grant to pursue her interest in racial equity and inter-group dialogue. She will examine the Human Rights Commission for Race Relations and the Commission's impact on New Zealand's diverse communities, drawing lessons for racial equity policies.
As an SIS staff member, Nagai-Rothe has worked to increase the visibility of the Farsi Chair of Islamic Peace by updating and improving its website. She has also helped to oversee several the work of interns and graduate assistants who work with Professor Said on research projects, including localizing peace and conflict mapping.
Nagai-Rothe's interest in inter-group dialogue was part of what initially drew her to the IPCR program, and specifically to the Dialogue Development Group, which she was involved with even as a prospective student. During the two and a half years she has served as President, she has been instrumental in integrating DDG into the greater AU community.
"DDG has really has grown a lot in the past several years," Nagai-Rothe reflected. "Maria Jessop [DDG founding president and IPCR alumna] laid a solid foundation for this innovative program. By the time I got involved, I worked to expand the program,—focusing on structure and institutionalization."
Through Nagai-Rothe's focus on institutionalizing the program, DDG has evolved into a campus wide initiative, involving increasing numbers of students from across the AU community, serving DDG's ultimate goal to create a culture of dialogue on campus. . The program has also evolved internally. DDG's dialogue facilitation trainings have progressed from being facilitated by external organizations such as Hope in the Cities and Public Conversations Project to "in-house" trainings drawn from DDG's own resources (AU faculty, alumni and experienced DDG facilitators) to meet the specific needs of this emerging program.
"I've tried to make the program more community oriented—making time to check-in and build relationships amongst our DDG community to reflect our value in dialogue both internally and externally" she said.
When reflecting back on all her various experiences within the IPCR Program, Nagai-Rothe concluded, "I brought my values of social justice and racial equity to the program when I came in. IPCR gave me a theoretical framework from which to draw upon as well as a supportive community to further implement these values into practice, right here within our own campus community."
This article originally appeared in the Winter 2010 International Peace and Conflict Resolution Newsletter.