Alumni Success Story
AU Students and Alumni Build Skills in the Office and at the Movies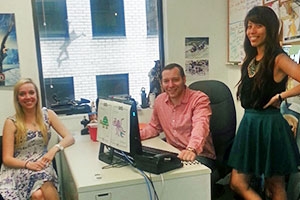 In his three years at the entertainment marketing firm Allied-THA, publicist David Lieberson, CAS/SOC/BA '10, has seen more movies than he can remember. He's met celebrities like Angelina Jolie and Jesse Eisenberg. And, during a career that has already included two promotions, Lieberson continues to be surrounded by other AU students and alumni. One third of Allied-THA's D.C. staff is made up of former Eagles, and current AU students consistently dominate the office's intern pool.

Working in film promotion has its celebrity-focused perks, but the firm's numerous opportunities for creativity and development coupled with the opportunity to work alongside fellow Eagles is appealing enough on its own, Lieberson says.

"It's been kind of nice to learn different positions coming right out of college," says Lieberson, who worked on AU's WONK campaign before joining Allied-THA full time. "And when you're working with other AU alumni, everyone knows what we're talking about."

That connection to AU came in handy not only when Lieberson started at Allied-THA as an intern—he learned about the position from one of his fraternity brother's friends, who was working there at the time—but when, after working his way up the ranks to junior publicist, he took over the Allied-THA intern program with another AU alumna. For more than a year, Lieberson and his co-worker drew on friends, acquaintances, and other AU students to staff the intern program. Internship responsibilities range from clipping articles and sending out packages to distributing screening passes for films and working on specific releases. 

"In terms of what attracts AU students, it's a good intersection of communications, entertainment, and film, but we're also a large PR firm," explains Lieberson. "We have over 200 employees; we have 15 or 20 offices. It's not like a little boutique firm. … The only thing we do day to day is clips; other than that, everything is different."

Now as a full publicist with seven clients including Universal Pictures, Summit Entertainment, and Walt Disney Studios Home Entertainment, Lieberson spends more of his day planning press tours and events. Time management is key, says coordinator Jenna Irish, SOC/BA '11, whose responsibilities include working public film screenings, helping prepare reports for studios that include audience feedback, and pitching story ideas to press members. 

"When I was an intern, the things I was concerned about getting done and my responsibilities were nothing compared to here," Irish says. "The amount of stuff you're working on is intense."

But the intern program is engaging because it provides chances for students to come up with their own kind of promotional ideas, Lieberson and Irish both say. If an intern comes up with an idea for a partnership with a local business to promote an upcoming film, they're encouraged to pursue it—"you get out how much you put in," Lieberson notes—and that kind of leadership and dedication to a project will look good on a resume. 

And so far Raakkel Sims, SIS/BA '13, has put in a lot. Although her previous internships have been more directly related to her academic focus on international relations—including her internships with the White House in summer 2012 and Finland's Foreign Ministry while she studied abroad in Brussels, Belgium, in fall 2012—her internship with Allied-THA has provided her more insight into marketing methods and targeted writing. Those skills may come in handy during her internship with the Department of State this fall, Sims says, and for her eventual career goal of joining the Foreign Service.

"It's really broadened my capacity to think outside of the box," says Sims, who has worked on campaigns for films like "The Big Wedding," "Safe Haven," and "The Purge," of her internship. "I know I can apply marketing to different SIS aspects; if I'm writing a report, I know how to word it in a certain way so the person reading remains interested."

The large contingent of AU interns have helped bring a sense of familiarity and comfort to her experience with Allied-THA, Sims says, and she would encourage any student—movie obsessed or not—to consider an internship with the firm for the chance to improve and develop creative thinking, public speaking, and research skills. You may even be small enough for Sims' favorite part of the job.

"I've done a lot for the movie 'Despicable Me 2,' and there have been a lot of appearances of the Minion costumes, which I am fortunate enough to be short enough to fit into," Sims says with a laugh. "So when I think of Allied, I think of the Minion costume. I always volunteer to do it because that's a fun thing to do. Everyone can be creative—you don't have to just be a marketing major or minor to be here."