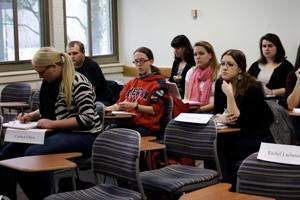 Photo courtesy of Pamela Riis
Campaign College encourages and trains young women to run for student government on their college campuses. Campaign College is a day-long training held on campus that teaches college women skills needed to mobilize their constituency, craft their message, and present themselves as candidates. The staff brings in outside experts, as well as current and former student government officials, to speak to the students. Campaign College gives more young women the valuable experience of running and serving on student government to prepare them for future campaigns and elections.
Spring 2012 Election Schedule

Information Sessions:
Tuesday, February 28
Butler Board Room
1:30 PM
Wednesday, February 29
Ward 2
8:00 PM
Thursday, March 1
MGC 245
4:30 PM
Saturday, March 3
MGC 245
3:00 PM
Please note that if you wish to run in the Spring SG Elections, you MUST attend one of the above information sessions!
Nomination Convention:
Wednesday, March 7
MGC 200
9:30 PM to 11:30 PM
Campaigning:
Monday, March 19 at 12:00 AM to Tuesday, March 27 at 8:30 AM
Voting Begins:
Tuesday, March 27 at 9:00 AM to Wednesday, March 28 at 5:00 PM

Background
In Fall 2006, the Women & Politics Institute learned that women made up only 28% of the AU Student Government (AUSG), even though AU's student body was 62% female. WPI partnered with Women's Inititative to launch Campaign College: AU Women to Win. Subsequent to the first Campaign College, women's representation in AUSG increased by 43%!
In 2008, thousands of students across the country volunteered, interned, and took time off from school to work on political campaigns. To capitalize on these heightened levels of political, WPI introduced some changes in the Spring 2010 Campaign College agenda. On February 20th, the second Campaign College of the academic year included sessions with young veterans of the campaign trail. They shared their experiences and helped students explore effective political strategies and opportunities.

In the future, we hope to revitalize Campaign College and encourage more AU women to make a difference in their student government.