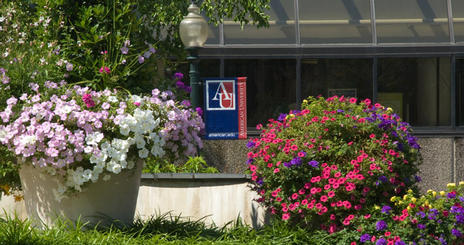 Writing and Grammar
This course develops students' writing skills with a particular focus on writing academic essays according to American academic conventions. After reviewing and honing their skills on writing clear, focused, and well-developed paragraphs, students learn to state and defend a thesis while composing a variety of academic essays, such as compare and contrast, cause and effect, and process. Students engage in all aspects of the writing process, including peer review workshops, and learn the value of feedback and revision. In addition, students analyze and address the typical grammatical trouble spots for non-native speakers. Throughout the semester, students pay close attention to the norms of academic integrity and the issue of plagiarism. The course culminates with an introduction to the research paper.
Academic Discussion
This course focuses on improving all aspects of the oral and aural skills necessary to be successful undergraduate students. The curriculum emphasizes receptive skills, such as listening for content, note-taking, paraphrasing, and summarizing, as well as expressive skills, such as giving a variety of presentations and participating in small group and whole class discussions. In the process, students increase their fluency and accuracy in expressing their ideas, expand their academic and idiomatic vocabulary, and sharpen their critical thinking skills while becoming more comfortable and confident with the culture of an American classroom.
Reading and Vocabulary
This course offers undergraduate students the opportunity to develop critical academic reading skills and to expand their academic vocabulary. Students read a variety of texts, such as essays, newspaper articles, short stories and novels. Students respond critically to the texts by writing journals and essays, giving presentations, and actively engaging in small and whole group discussions with their classmates in order to explore the nuances and deeper meanings in each text. All semester students keep a vocabulary journal composed of new words they encounter from each article, story, or novel.
Media and Culture
This is an integrated skills course where students creatively engage in all of the core language skills: reading, writing, listening, and speaking. The course is organized thematically by the type of media, including newspapers, radio, film, the web, and social media. For each media genre, students engage in a related activity, such as writing a newspaper article, producing a pilot of a radio show, launching a new magazine, analyzing a TV show, and developing a website. Students work both individually and collaboratively in small groups and always pay close attention to any language issues that arise during their activities.