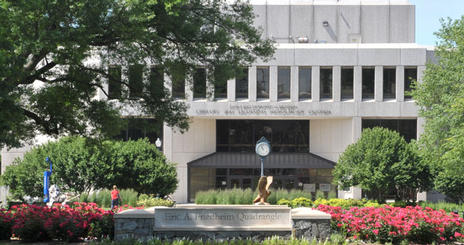 WHAT IS THE PURPOSE/GOAL OF THE ACADEMIC ENGLISH PROGRAM?

The purpose of American University's Academic English Program (AEP) is to provide the first step in a two-semester bridge program that prepares and acculturates international undergraduate students for academic work at American University. AEP is an Intensive English Program in which students are in class for 20 hours per week. The rigorous curriculum focuses on the critical academic reading, writing and oral communication skills needed for international students to be successful at American University. Students who successfully complete AEP advance to the International Gateway Program (IGP) in the following semester. For more information on IGP go to: www.american.edu/spexs/igp
WHAT COURSES ARE OFFERED THROUGH THE ACADEMIC ENGLISH PROGRAM?
AEP consists of four courses, each of which meets for 5 hours/week:
•  Writing and Grammar
•  Academic Discussion
•  Reading and Vocabulary
•  Media and Culture
WHAT WILL THE COURSES COVER?
Writing and Grammar
This course develops students' writing skills with a particular focus on writing academic essays according to American academic conventions. After reviewing and honing their skills on writing clear, focused, and well-developed paragraphs, students learn to state and defend a thesis while composing a variety of academic essays, such as compare and contrast, cause and effect, and process. Students engage in all aspects of the writing process, including peer review workshops, and learn the value of feedback and revision. In addition, students analyze and address the typical grammatical trouble spots for non-native speakers. Throughout the semester, students pay close attention to the norms of academic integrity and the issue of plagiarism. The course culminates with an introduction to the research paper.
Academic Discussion
This course focuses on improving all aspects of the oral and aural skills necessary to be successful undergraduate students. The curriculum emphasizes receptive skills, such as listening for content, note-taking, paraphrasing, and summarizing, as well as expressive skills, such as giving a variety of presentations and participating in small group and whole class discussions. In the process, students increase their fluency and accuracy in expressing their ideas, expand their academic and idiomatic vocabulary, and sharpen their critical thinking skills while becoming more comfortable and confident with the culture of an American classroom.
Reading and Vocabulary
This course offers undergraduate students the opportunity to develop critical academic reading skills and to expand their academic vocabulary. Students read a variety of texts, such as essays, newspaper articles, short stories and novels. Students respond critically to the texts by writing journals and essays, giving presentations, and actively engaging in small and whole group discussions with their classmates in order to explore the nuances and deeper meanings in each text. All semester students keep a vocabulary journal composed of new words they encounter from each article, story, or novel.
Media and Culture
This is an integrated skills course where students creatively engage in all of the core language skills: reading, writing, listening, and speaking. The course is organized thematically by the type of media, including newspapers, radio, film, the web, and social media. For each media genre, students engage in a related activity, such as writing a newspaper article, producing a pilot of a radio show, launching a new magazine, analyzing a TV show, and developing a website. Students work both individually and collaboratively in small groups and always pay close attention to any language issues that arise during their activities.
WHAT IS THE CLASS SIZE?
Each AEP courses will enroll approximately 16 students per class.
DO THE AEP COURSES COUNT FOR CREDITS TOWARD A BACHELOR'S DEGREE?
No, AEP courses do not count for credits. They are designed to help you develop your academic and English language skills in order to advance to IGP, which does earn credits towards a degree.
CAN I APPLY DIRECTLY TO THE ACADEMIC ENGLISH PROGRAM?
No, AEP is for conditionally-admitted undergraduates to American University. Thus, you must apply to American University first. The undergraduate admissions office reviews your application and decides whether or not your application is acceptable for American University. They will then determine whether you should be conditionally admitted and placed in AEP or IGP, or if you should be fully admitted and placed directly into your bachelor's degree program courses.
HOW DO I QUALIFY FOR ADMISSION TO THE BACHELOR'S DEGREE PROGRAM AT AMERICAN UNIVERSITY after AEP?
Students who make at least satisfactory academic progress in AEP (earning a grade of "C" or better in each of the AEP courses) will be enrolled in IGP the following semester. Students who successfully complete IGP (again, with a "C" or better) will then be admitted and enrolled in their AU degree program.
IF I ACCEPT TO ENROLL IN THE Academic English PROGRAM AS A CONDITION OF ADMISSION, WHAT DO I HAVE TO DO?
You have to read and sign the enrollment agreement and housing application forms and send them back with your deposit in order to confirm your intent to enroll in the AEP.  
WHAT IS THE NORMAL LENGTH OF STUDY FOR AEP?
The Academic English Program is a semester-long program. It runs as follows:
•  Fall – August to December •  Spring – January to May
WHAT HAPPENS IF I FAIL COURSE?
Students who do not earn a grade of "C" or better in each of the AEP courses may have the opportunity to repeat AEP one time the following semester.
AS A STUDENT IN THE IGP PROGRAM AM I ELIGIBLE FOR A MERIT SCHOLARSHIP?
Students in AEP are not eligible for merit scholarships.
WHAT VISA WILL I NEED TO ENROLL IN THE INTERNATIONAL GATEWAY PROGRAM IF I LIVE OVERSEAS AND NEED A VISA TO ENTER THE UNITED STATES FOR STUDIES?
Students who enroll in AEP will need an F-1 Student Visa in order to enter the United States to study. For more information regarding the visa process please refer to the International Student and Scholar Services website at http://www.american.edu/ocl/isss.
WHEN WILL I BE ISSUED THE I-20 FORM IN ORDER TO APPLY FOR THE F-1 VISA?
Once you sign and return your enrollment agreement and housing application forms along with your deposit, American University will issue the I-20 immigration form and mail it to your home address so that you can schedule an appointment for a visa interview at a United States Embassy or Consulate in your home country.
HOW AND WHEN WILL I REGISTER FOR COURSES?
Once your enrollment agreement, housing application form and deposit are received, the AEP Director, who will serve as your academic advisor, will contact you to complete your course registration.
AM I GUARANTEED AU HOUSING AS AN AEP STUDENT?
Yes, AEP students live in double or triple occupancy rooms on the AU campus with other undergraduates. Roommate preferences cannot be guaranteed. All university residence halls are nonsmoking, and most floors are coed.
DO I HAVE TO LIVE ON-CAMPUS?
Students who prefer to live off-campus with friends or relatives are permitted to do so. Students wishing to live off-campus will be responsible for making their own living arrangements.
WHAT PROGRAMS AND SERVICES CAN I EXPECT AS A STUDENT IN THE INTERNATIONAL GATEWAY PROGRAM?
Students in AEP will have access to all the services and programs provided to all AU students, including use of the University Library, Athletic facilities, student clubs and organizations, the Academic Support and Access Center, and the Counseling Center. In addition, students participate in the American University orientation programs prior to the start of classes to ensure that they are familiar with the services and programs at AU. The only restriction for AEP students is that they cannot participate in varsity sports programs as conditionally admitted students. Once AEP students are fully admitted to the university, they can participate in varsity sports programs.
WHO SHOULD I CONTACT IF I HAVE QUESTIONS REGARDING THE PROGRAM?
For further information or assistance, please contact:
Ken Janjigian
Associate Director, English Bridge Programs
janjigia@american.edu
(202) 895-4919