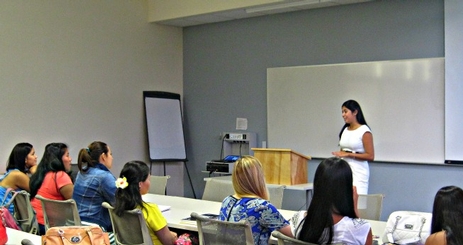 Course Descriptions:
TOEFL iBT Preparation 
Improve your TOEFL performance while strengthening your English language proficiency. This course focuses on all four test areas: reading, writing, listening, and speaking. Like the Integrated Skills course, students practice and improve in all four key language areas, but within the context of increasing one's iBT TOEFL score. Students become fully aware of the test format, analyze a variety of questions, self-assess their own particular language strengths and weaknesses, and learn the test-taking strategies necessary for success. Students take two complete practice tests; one at the beginning of the semester and one at the end.


Business Communication 
This course is for students who wish to improve their English skills within a business context. Although all language skills are addressed, special attention is given to listening and speaking. Students engage in academic discussions, give formal and informal presentations, analyze case studies, write resumes and cover letters, read articles from the Financial Times and Wall Street Journal, and listen to National Public Radio's Marketplace. Students expand their vocabulary and knowledge of idioms commonly used in American business while grammatical issues are reviewed both in the course text and within the flow of class discussions, writings, and presentations. This course provides students with the tools and strategies to become confident and effective communicators in business and beyond. This course is available on-campus or online.