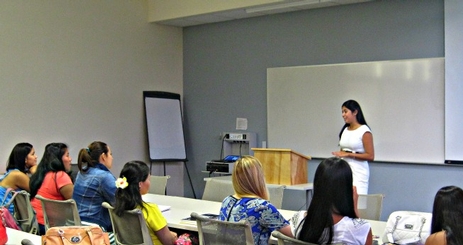 The Academic English Program (AEP) is a non-credit, semester-long residential program for freshman applicants with a strong academic record but require additional support with English language skills. AEP students are enrolled in an intensive English program with 20 hours of in-class instruction per week.

Conditionally admitted AEP students must successfully complete AEP by earning a grade of C or better in each of the four program courses in order to advance to 12-credit International Gateway Program the following semester. AEP is the first step in a two-part bridge program that leads to full admission to American University.

A minimum TOEFL iBT score of 64 or IELTS 6.0 is required to be considered for conditional admission to AEP.

AEP students are enrolled in the following four courses:
• Reading and Vocabulary
• Writing and Grammar
• Media and Culture
• Academic Discussion

Please note that the AEP does not solicit or accept applications from the general public.  
To participate in AEP, you must apply through undergraduate admissions: International Office of Admissions.