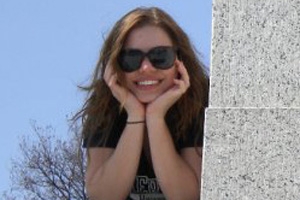 Name:
Anna Hagler
Graduation Year (AU):
May 2012
What is/was your major?
Communications, Legal Institutions, Economics, and Government (CLEG)
What school do/did you attend?
School of Public Affairs
What is the name of your High School?
Marist School
What are you passionate about/interested in?
I'm passionate about Congress and our representative democracy. 
Your childhood ambition?
I wanted to be a ballerina. (That didn't work out)
Your career ambition?
I would love to be a Senior Advisor or Chief of Staff to a congressperson.
Where was your internship and what do you do there?
I worked for the Disability Policy Collaboration and participated in the research and push for the American with Disability Amendment Improvement Act which was passed during my time there. 
What are you doing now?
I intern with the House Armed Services Committee.
Why are you in D.C.?
To be a part of the action – to not just study politics but be a part of it.
Your inspiration?
Our government. It's ups and downs – even its "failings," I'm constantly inspired by the government our founding fathers gave us.
What do you do for fun in D.C. and on the weekends?
I have two jobs so I mostly catch up on my homework but if I go out I go clubbing in the Dupont area. .
What do you want the world to know about WMP?
WMP kids are the future movers and shakers in Washington. They're there because they don't want to just go to school; they want to get ready for their future.
Who is/has been the biggest influence on your WMP experience so far?
I owe Professor Crouch my career direction. His introduction to the Legislative Correspondent in Congressman Andrew's office was the key to every opportunity that has followed. I wouldn't be where I am without him.
Your hobby/hobbies?
I'm a personal trainer at Jacobs Fitness Center. It's been a great way for me to make money and do something that I love.
Favorite food and why?
Creamed Corn – it reminds me of the south, where I'm from. DC doesn't have anything on southern cooking.
What are the most important lessons you've learned here so far?
Always go above and beyond in your internships. DC is the land of interns and they see them come and go all the time. Very few of them are actually remembered. You want to be one that's remembered.
Who has had the strongest influence on you and your life and why?
I know it's cliché but my family and the confidence they've instilled in me. None of them have any political background but they have been so supportive as I figure it out. They've taught me that I can achieve anything I set my mind to and that a little politeness and a smile goes a long way in any situation. 
Favorite city and why?
DC! It's where our government operates. If you want to be a part of it you have to be here!
Your biggest challenge so far?
Balance. I'm taking 17 credits this semester as well as a 3 day internship and working about 8 hours as a personal trainer at Jacobs Fitness Center. Keeping up with everything is hard but it's been my most fulfilling term.