Alumni
The Perfect Solution
How A Grad Gateway Alumna Made the Right Career Decision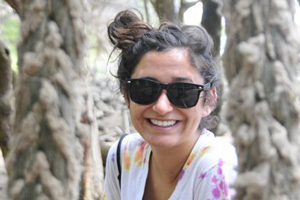 Recent Graduate Gateway Program grad Claire Navarro knew she liked International Affairs, but wasn't ready to take the plunge into a full-time master's program. Thanks to the Washington Semester's Grad Gateway Program, Claire got a taste of International Affairs course work and even dabbled in the field while interning at the National Security Archive.

Check out what Claire had to say about her Grad Gateway experience and how it gave her the tools to make the career right decisions.

Claire: As a recent graduate with a Bachelor's of Arts in Religion and Spanish, I knew that I would one day return to school for a Master's degree, though I did not know what for. International Affairs had always interested me.
I had participated in a service and exchange program in Panama during high school, I had studied abroad in Granada, Spain and made a side trip to Morocco, and I found the people and culture of Islam and the Middle East fascinating. Though I was very interested in International Affairs, my Spanish studies and World Religion courses spanned the extent of my academic exposure to the field.
Because I had never taken a course in International Affairs and because I wanted to experience the field without committing to a full-fledged International Affairs Master's program and possibly end up studying something I really didn't enjoy, the Graduate Gateway program offered the perfect solution.
It offered me a taste of International Affairs in a variety of different mediums - a foreign policy seminar, an elective of my choice and an internship. The foreign policy seminar has given me a constructive look into the different career paths within International Affairs and it has introduced me to many specialists and speakers who have provided me with further insights and ideas into what it is that I would ultimately like to pursue.
The elective has allowed me to deepen my understanding of a topic of my choice that I knew I was interested in, but uncertain of whether or not I wanted to dedicate myself to academically and professionally. The internship has given me field experience in another area of International Affairs that I find interesting while also allowing me to network, gain valuable work experience, acquire new skills and determine whether or not my area of interest is a passion that I would like to explore as an occupation. The Graduate Gateway program helped me to better understand my interests and focus in on what I would like to pursue academically and professionally.
Also, I have found the American University Internship Database to be invaluable in my research and investigation of opportunities within the field of International Affairs. There are opportunities that I would not have known existed had I not participated in this program.
In short, the Graduate Gateway Program has helped me in three ways: it has furthered my understanding of my own interests and disinterests, it has opened my eyes to the diversity of career avenues within International Affairs and it has given me the tools (such as the internship database) and the experience (the seminar, the elective and the internship) to more decisively navigate and explore these career avenues in correlation with what I have learned about my myself, my interests and my disinterests.