Alumni
WSP Alumna: Jena Barjenbruch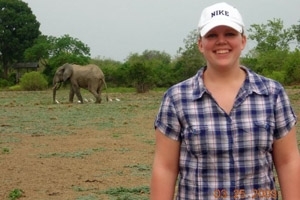 Having grown up in a small town in rural Nebraska, I sought to capitalize on my opportunity to select a university that would fulfill my desire to see the world in its reality. I chose Bradley University, a midsized private university in central Illinois, offering a wide variety of study abroad programs and a reputable Institute of International Studies. From there, I was afforded the opportunity to participate in the International Environment and Development section of the Washington Semester Program (WSP) at American University in Washington, D.C. Through this semester of hands-on education, I was able to visit and speak first-hand with many organizations that work directly in the field of international development (Save the Children, USAID, International Monetary Fund). In addition, I transferred the knowledge gained in the classroom and in DC to the field as I traveled to Ghana for a three-week study abroad experience. My class visited small non-profit organizations started by local community members, spent time in remote villages speaking with villagers about their struggles and their triumphs, and we explored Ghana's natural habitats and wildlife in its national parks and nature conservancies.

My unforgettable experiences throughout my semester with WSP turned my desire to help the people of the world into reality. After graduating from Bradley in 2010, I decided to apply to Peace Corps. I became a Peace Corps Volunteer placed in Guyana, South America in February 2011. I participated in two months of training to become a community education promoter which would require me to work mainly in the field of literacy at the primary school level. Following my move to my permanent site, a midsized semi-urban community on the coast, I started developing a literacy program for the remedial students in Grades 1-4 at my primary school.

The goal of the program is to pull out those students who struggle the most in reading and writing and teach them at their current learning level in order to bring their performance back up to their actual grade level. Throughout the 20 months I've been utilizing this program, the focus has been largely on phonics as many of the students still struggle with letter-sound association. At the end of each semester, I re-test my students using a reading diagnostic test to gauge their progress, and every term I have had 80-90% improvement rates.

Another project I have organized with the help of teachers, the PTA, community members, and local businesses is a week-long summer camp for 80-100 Grade 1-6 children from my primary school. The camp focuses on fun and motivational learning to keep the children occupied during summer break. It includes 4 stations – story time and craft, educational/board games, music/dance, and physical education with a minor emphasis on nutrition and environmental care. The past two summer camps have been extremely successful and have brought domestic and international news coverage to my small primary school in Guyana.

After almost two years serving as a Peace Corps Volunteer, I can't imagine myself doing anything else. I have grown to not only learn about Guyanese culture but truly become a part of it. Without my Bradley University education and my initial international experiences through WSP, I would have never seen the world the way I do now – as a place filled with opportunities to experience, to learn, to appreciate, and to give.