Government & Politics
A President, a Prime Minister and a White House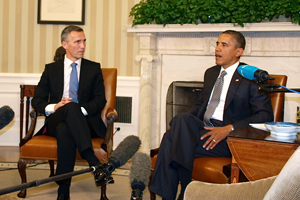 I had been asking my supervisor at NBC about this day for six weeks. In fact, I had probably asked her about it a few too many times. So when the day came, I was kind of bummed – because I hadn't heard back yet. I walked into the door to the newsroom and said 'Good morning'. My supervisor replied 'So, I cleared you for the White House for today. Kenny the courier will take you at twelve'. Just like that. Like she was saying 'So, I'll place you in the research library today'. I couldn't believe it – I was going to spend the day at the most famous white house in the world – The White House. The epicenter of power in the world, and the home of President Obama. The reason I had been bugging my supervisor to get me in to the White House on this specific day, was that the Norwegian prime minister was meeting the President in the Oval Office at 4 p.m. Now, I didn't have credentials to get into the actual meeting, but I did have credentials to try.
In the car on the way down, I asked Kenny the courier, "So, have you ever been inside the White House?" He laughed and said, "Yeah, girl – I go there three or four times a week." What was it about Washington DC? Was I the only one who thought going to the White House was huge? Going through the gates at 1600 Pennsylvania Avenue, I watched all the tourists standing on the outside. They thought it was huge just being on the outside. That's probably the biggest privilege of being a journalist; to get to go places most people can't go and to get to meet people few others will ever be able to meet.
Suddenly I found myself inside the White House Press Briefing Room. The place I had seen so many times on TV. "The doors to the Rose Garden will open in 10 minutes," someone said over the speakers. I followed the other journalists, pretending I belonged there too. And I guess they thought I kind of did – until I asked a White House correspondent from CNN to take a picture of me just when President Obama was walking out to the podium. I turned around. It was really him, and he was so close. When he started speaking, I knew he was talking about former Libyan dictator, Muhammad al-Gaddafi, being killed. But the only thing I could focus on was the auto focus on my camera.
After Obama had left the garden, I heard the other journalists saying something about a medal ceremony and they all started running towards the actual White House. I followed, calmly, like I too went to the White House three or four times a week – trying not to peak into to all the rooms with open doors and big chairs in them. Then, there he was again. Barack Obama. And his smile. He had to change roles just as fast as I had to change my White House balance. He was even closer now, giving out medals and hugs to brave Americans. Obama left the room and I, once again, followed the real journalists. This time through the main entrance where the big, white pillars are. I managed to take a picture, just before someone shouted "No pictures!"
Back in the press briefing room, I met a lot of Norwegian journalist colleagues from different newspapers and TV stations. Only the most experienced journalists are flown to Washington DC to cover the meeting between the prime minister and the president of the United States, and I got the feeling that not all of them were overwhelmed with joy that a young student intern was at the same place. Now, the difference was that I didn't have credentials – but I did have a plan. I would stay in the back, just as I had been doing all day, pretending to belong. Luckily the president was in a rush, and luckily the credentials around my neck were the same colors as the real journalists. I was sure someone was going to catch me, as I felt I was doing something illegal, and my hands were shaking – until I threw myself over a couch in the Oval Office and hid behind my camera again. I was in! The president and the prime minister were talking about how important the relationship between their two countries was and how they appreciated each other's support. Or, so I've read. I was so perplexed by the fact that I was actually in the Oval Office, there was no way I was able to pay attention to the conversation. I'm still amazed that anyone actually was able to focus on anything else but Obama's smile. The next day my supervisor asked me, "So, how was the White House?" I said, "I actually snuck into the Oval Office." "Wow," she said. 'I guess you are a real journalist."