The Global Economics and Business section of the Washington Semester® Program provides you unparalleled opportunities to gain both conceptual and practical knowledge related to trade, finance, and economic policy. You will study and work in the nation's capital, home to such national and international economic and business players as the World Bank, the International Monetary Fund, and the U.S. Chamber of Commerce.
During your seminar classes, you will study these and many other organizations by meeting with representatives of trade associations and multinational corporations, experts from international organizations and U.S. government agencies, and members of Congress who deal daily with issues affecting the nation and the world. Through your internship, you will acquire relevant professional experience directly related to a key aspect of international business or the global economy.
Washington, D.C. is an ideal learning environment in which to acquire unique leadership skills that will help you succeed in an increasingly competitive global market place. Seventy-five percent of all multinational companies boast offices in D.C., and 200 foreign-owned companies are based in the greater Washington area, along with several Fortune 500 companies and hundreds of international organizations, trade and professional organizations, US Federal and State agencies, and foreign embassies. As a student in the Washington Semester® Program, you will engage directly with prominent entrepreneurs, policy makers, and scholars at various think tanks, multinational corporations and financial institutions, US federal agencies, NGOs, as well as interact with business lobbyists and representatives from labor unions, and multilateral institutions.
Fall 2014: Travel Program, China
Travel to the main centers of business, trade, and government on this first-person learning experience in China, the second largest economy in the world behind only the United States. See, first-hand, major Chinese business centers in Beijing, Shanghai, and Hong Kong. Meet with multinationals operating in China – Cisco, Honeywell, General Motors, Omron, and with prominent Chinese companies – Shanghai Jahwa, Guosen Securities, Spring Airlines, Yanjing Beer Company.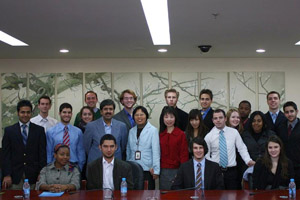 As a Global Economics and Business student you will travel to China because that great nation must be understood on its own terms – its history, the values its people uphold, the changes the nation is undergoing, and the expectations the Chinese have for the future.
Be prepared to climb the Great Wall of China, to experience for yourself the culture that has evolved in China over thousands of years. Become informed of China's traditions and legacy as you enter the Forbidden City, stroll through the Summer Palace, and stand in Tiananmen Square. Such local, in-country knowledge not only will provide you with memorable experiences for a lifetime, but help you gain an exceptional perspective, and likely an advantage, among your peers.
Spring 2015: Travel Program, Silicon Valley/San Francisco
Spring 2014 GEB students meet Charles Schwab as part of their In-field Learning Experience
The Global Economics and Business program will be traveling to Silicon Valley/San Francisco to visit, tour and network in the birthplace of the 21st century economy. This is the home to established technology giants and Internet innovators such as eBay and Netflix plus many less well-known startups that will change the individual lives of millions, even billions of people. Silicon Valley is filled with companies driving the global economy. The trip, which will offer students a rare up-close and personal look at the intersection of high-tech and high finance will take place for eight days during the Spring 2015 semester.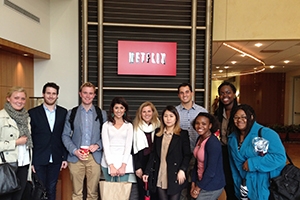 Spring 2014 GEB students at Netflix HQ
Visit with entrepreneurs, executives, and business professionals. Learn how they grow their business, develop new products and services, and take advantage of the globalized economy.
Engage with San Francisco financiers who invest in startups and accelerate new business concepts.
Study the entrepreneurial ecosystem that evolved out of Stanford University.
Learn how the development of the microchip transformed northern California at The Tech Museum of Innovation.
Experience trade in action at the Port of San Francisco.
Enjoy trips to the Redwood trees of Muir Woods and the Tcho Chocolate Factory.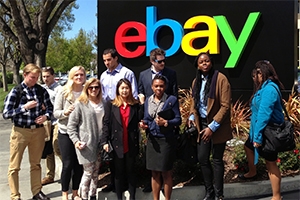 Spring 2014 GEB students at eBay HQ
in San Jose, CA.
The School of Professional and Extended Studies is now receiving applications for this invaluable opportunity to learn about the global economy first-hand from influential business leaders who are shaping and changing it daily. To get started, please contact WashSem@american.edu or (202) 895-4979.
Please note that these program descriptions are proposed plans of activities. Specific travel itineraries and venues are subject to change.