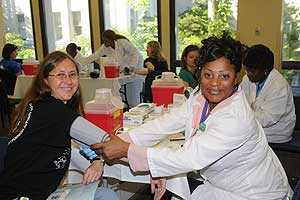 AHealthyU Screenings
Healthy habits today lead to a healthier life tomorrow, and what better time know your numbers than right now? Get a free health screening including blood pressure, cholesterol, glucose, bone density, vision, and body composition. No fasting is required. We'll also have a health educator, diabetes educator, and nutrition counselor available to talk to you. Also, if you have your health screening done during Staff Appreciation Week, you will be entered into a drawing to win one of three iPads.*
We encourage you to sign up in advance; there are only a limited number of walk-in screenings available. Register online.
AhealthyU Free Health Screenings are available on:
Tuesday, May 21
1 p.m. - 5 p.m.
Battelle Atrium
Thursday, May 23
8 a.m. - 1 p.m.
Mary Graydon Center Rooms 3-6
*Health Screening rewards and prizes are subject to tax. Eligibility rules apply. See the Know Your Numbers website for details.
Test Your Fitness Tuesday
Today is Test Your Fitness Tuesday! Test your fitness today at the Jacobs Fitness Center. Complete as many push-ups or sit-ups as you can. Score above the 85th percentile for your age and gender and win a prize! Stop by the JFC front desk to check in anytime between 11 a.m. and 2 p.m.
View more information about these events and other JFC offerings.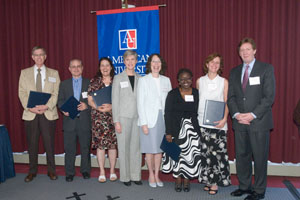 Years of Service and Performance Awards Luncheon - Invitation Only

AU honors staff with five, ten, and fifteen years of service along with the winners of the 2013 Staff Performance Awards at a special luncheon.
Years of service calculations are based on your full-time service anniversary date. This year, we honor staff who reached 5-, 10-, and 15- year milestones between June 1, 2011, and May 31, 2013. Please note that there may be some staff who, due to a separation from the university or a period of part-time work, may not appear on the honoree list. If you believe this to be the case for you or a colleague, or if your information is listed incorrectly, please email Deadre Johnson to request a years of service verification.
Date: Tuesday, May 21
Time: 12 p.m. – 2 p.m.
Location: Katzen Arts Center, Rotunda
NOTE: This is an invitation only event
View a list of all staff recognized for an AU milestone this year.
NEW! 60-Second Challenge
Compete in The 60-Second Challenge with household objects for a shot at winning a prize! Compete as an individual or in a team. As the level of difficulty with each challenge increases, so does the quality of the prize you can win!
Date: Tuesday, May 21
Time: 12 p.m. – 2 p.m.
Location: MGC 2-4

Official 60-Second Challenge Rules:
Must be an AU Staff member to participate
Individuals cannot participate in more than five challenges
Competing participants must complete challenges. The first to complete the challenges successfully wins!