Discounts!
Your AU Staff ID card is your ticket to save money. Show your pride! Show your card! Save some cash!
Picture This!
Love AU? Show us how by tweeting a picture to @AUappreciates with the hashtag #AUappreciates. Capture what makes working at AU so great! The most creative entries will be featured on our Twitter page and entered into a drawing for a great prize!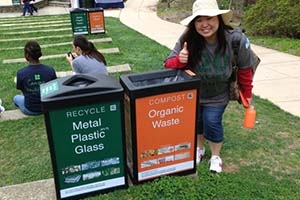 Staff Appreciation Goes Green
This year, Staff Appreciation Week events are going greener than ever before! For the first time, our annual Staff Picnic will be a zero waste event! Look for Green Eagle signs during Staff Appreciation Week as they will denote our "Green" events. Also, look for the brand new orange bins across campus for organic waste collection. Thanks to all our AU staff for helping us green the American dream during Staff Appreciation Week and all year long!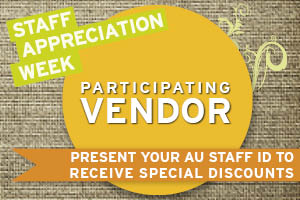 Discounts for Staff

During Staff Appreciation Week, May 20 – 24, reap the benefits of being an AU staff member! Enjoy special discounts including an additional 25 percent off selected merchandise at the campus store (that's a total savings of 40 percent), 20 percent off at Hair City's TIGI Salon, a chance to win one of two $50 gift cards, special offerings at Jacobs Fitness Center, and more!
Look for this sign in windows around campus. Just show your AU Staff ID at checkout and receive an extra discount!
Participating Vendors Include:
AU Campus Bookstore: 15 percent off plus an additional 25 percent off clearance merchandise and refreshment freebies throughout the week
Hair City's TIGI Salon: 20 percent off
Megabytes Café: Free coffee with purchase of any sandwich; $2 off any sushi or sandwich
Mudbox Café: $1 off any espresso drink
Asian Flavors: Buy one entrée, get one entrée half price
Staff Appreciation @ JFC!
Staff Appreciation is all AboutU! Head over to the Jacobs Fitness Center for special offerings just for AU Staff! Check out New Member Monday, Test Your Fitness Tuesday, Work-It-Out Wednesday, Take-10 Thursday, and What's Your Body Fat Friday. Learn more about these events and other JFC offerings.
Accessibility & Accommodations
If you have questions concerning accessibility or need to request disability-related accommodations (i.e. sign language interpreters, materials in alternate format), please contact the Disability Support Services at x3315 or Employee Relations at x2607.