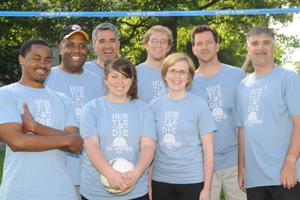 Many departments and groups create and wear team t-shirts to various team events during Staff Appreciation Week.

Want a customized WONK t-shirt?
If your team would like to have WONK t-shirts designed by our very own University Marketing department, contact Nadia Trowers at ext. 5970 with the following information:
Type of WONK (i.e. AU Life WONK or Helpdesk WONK)
Whether you want a single color or multiple colors in the design (multiple colors will increase the cost)
Which WONK logo should be used
What file format the design should be in (PDF, EPS, PSD etc. Check with the t-shirt printer if you aren't sure)

Order Your Team Shirts by May 4!
While not a requirement, AU staff have a grand tradition of team t-shirts for staff appreciation picnic events. Whether for your volleyball team, Wonk Wars, or just for fun, departments and teams have an opportunity to shine with great graphics and "pun"ny text every year!
To make ordering easier, we recommend using one of the university-preferred vendors: 
For 12-24 shirt orders, prices range from $8 - $15 a shirt, depending on the number of shirts and colors imprinted. Please contact your chosen vendor to confirm pricing or enquire about pricing on orders of less than 12 shirts. 
Teams may use the design tool provided on the vendor's website to design and select a shirt brand and color. If you have any questions please call the vendor directly. Be sure to order by May 4 to guarantee delivery of team shirts by May 21th.

(Note:Vendors cannot process payments made with a university purchasing card. If using departmental funds, please do a purchase requisition instead.)