Cupcake Competition!
Get your bake on! AU's annual cupcake competition is back! Exercise your creativity, enjoy a tasting of confectionary concoctions, or join the judging panel!

Prizes are awarded for Fan Favorite, Best-Tasting, and Most Creative cupcakes! Want to be one of the judges? This year, the mystery judge will be selected from one of our @AUappreciates Twitter followers! Be sure to follow @AUappreciates to be considered as a cupcake judge! Registration for the cupcake competition closes on Wednesday, May 16.
Date:  Monday, May 20
Time:  12 p.m. – 2 p.m.
Location: MGC Rooms 2-4
Campus Store Refreshments Special
Monday only, the Campus Store will offer something special for staff members. Visit the AU Campus Store and enjoy free coffee and doughnuts in the morning or free iced tea/lemonade and popcorn in the afternoon (while supplies last). Remember, all week long, AU Staff will get extra special discounts… just show your AU Staff ID at checkout!
View a list of all participating vendors and available discounts.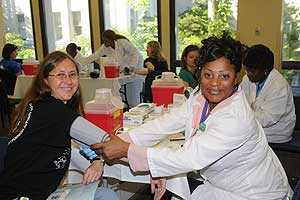 AhealthyU Screenings
Healthy habits today lead to a healthier life tomorrow, and what better time know your numbers than right now? Get a free health screening including blood pressure, cholesterol, glucose, bone density, vision, and body composition. No fasting is required. We'll also have a health educator, diabetes educator, and nutrition counselor available to talk to you. Also, if you have your health screening done during Staff Appreciation Week, you will be entered into a drawing to win one of three iPads.*
We encourage you to sign up in advance; there are only a limited number of walk-in screenings available.
AhealthyU Free Health Screenings are available on:
Monday, May 20
10 a.m. - 2 p.m.
Battelle Atrium
Tuesday, May 21
1 p.m. - 5 p.m.
Battelle Atrium
Thursday, May 23
8 a.m. - 1 p.m.
Mary Graydon Center Rooms 3-6
*Health Screening rewards and prizes are subject to tax. Eligibility rules apply. See the Know Your Numbers website for details.
JFC
It's New Member Monday! Kickstart your summer fitness and take advantage of a membership at the Jacobs Fitness Center! Purchase a new membership at the JFC, May 20, and receive 50 percent off of your unlimited summer group exercise pass! Summer group exercise passes include unlimited access to all of our group classes including yoga, spinning, total body workout, and Zumba! The regular summer pass is $50, but if you become a new member today, it's all yours for $25!
View more information about these events and other JFC offerings.