Staff Council Winter Wear Drive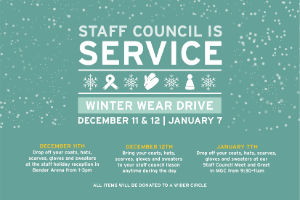 Please join Staff Council for our upcoming Annual Winter Clothing Drive! We will collect your jackets, gloves, scarves, and hats on December 11th, December 12th, and January 7th for A Wider Circle. Look for your Staff Council on December 11th at the University Holiday Party in Bender Arena between 1:00pm-3:00pm. Lastly, we will also host a Dollar Drive to support Martha's Table at the University Holiday Party. Every dollar helps! 

Additionally, please look to your Staff Council liaisons directly as a "location" to drop off Winter Wear donations on December 12th. We are happy to take your winter clothes donations on your behalf.
SAVE THE DATE 
Please join us for our second Meet-N-Greet of the Academic Year being held January 7th from 9:30am-11:00am. We will collect winter clothes on this date as well. 
We look forward to your support of our service engagements.