Staff Success Story
Assistant VP and CIO David Swartz to co-chair national cyber-security task force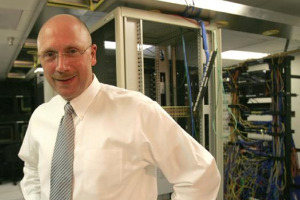 American University's efforts to be at the forefront of innovative cyber-security practices have taken a high-profile leap forward as David Swartz, assistant vice president and chief information officer, has been named the new co-chair of the EDUCAUSE Security Task Force.
As co-chair, Swartz will help to lead The EDUCAUSE/Internet2 Computer and Network Security Task Force's mission to improve information security and privacy in the higher education sector.
"I plan to help put into action a new strategic plan for cyber-security for higher education institutions," explained Swartz.
"A major challenge that higher education faces – different from the corporate world – is that we try to walk the tightrope of balancing the openness inherent in the university environment with the growing requirements of privacy and security. Any effective strategic plan would have to be mindful of these two sometimes opposing interests."
A long-time advocate for strong cyber-security measures, Swartz's goal and biggest challenge – as he sees it – will be to establish a "security architecture" that will address risks to security that are unique to institutions of higher education.
Swartz has addressed similar issues during the past two years, as he has lead AU's efforts to build a strong information security program and incorporate it into the university's processes and technologies. An integral part of this effort has been to influence the security compliance habits of students, faculty, and staff. To advance these objectives, the Information Security team has emphasized the importance of protecting the confidentiality, integrity, and availability of AU's digital data. They have also adopted a systematic security assessment process for Web applications and network vulnerability assessments. A campaign to expand awareness and training opportunities to provide guidance on how to handle and process sensitive data securely is also under way.
Swartz has similar aspirations for the EDUCAUSE Security Task Force. "I'd like to be able to establish a standardized, security architecture for higher education on a national scale – it's something we, as a sector, haven't embraced yet. It would not only provide security, but would serve as a benchmark to help us measure, security-wise, where we are, how we're doing, and what all we need to do to improve.
"Ultimately, I'd like the higher education sector to make investments in security architectures that serve as more than just an 'insurance protection.' It should free us and empower us to be able to do really innovative things."
Swartz is also looking forward to the "exciting and fun opportunities" of working and interfacing with various national and international cyber-security organizations, including the White House's task force.
EDUCAUSE is a nonprofit association made up of institutions of higher education, corporations serving the higher education information technology market, and other related associations and organizations. Their mission is to advance higher education by promoting the intelligent use of information technology. EDUCAUSE's current membership comprises more than 2,200 colleges, universities, and educational organizations, including 250 corporations, with more than 17,000 active members.