Faculty Success Story
Montes-Armenteros: A Professional Preparing Other Professionals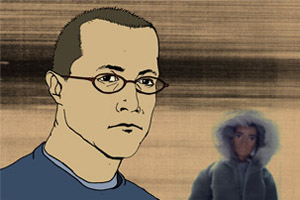 Don't let the Star Wars Legos hanging in his office fool you—Chemi Montes-Armenteros is a professional preparing other professionals. "I try to make students understand that anything worth doing is worth doing well," says AU's graphic design program director. "I set professional levels of expectation so they'll take pride in their work and push themselves and see what they can really do."
Cultivating Well-Rounded Designers
Montes-Armenteros came from Spain to the United States to attend Pennsylvania State University's graphic design MFA program. He stayed in State College, Pennsylvania, for two and a half years after graduation but found himself wanting to branch out from the college town.
He joined American University's Department of Art as a graphic design professor in 1999. "For a designer to be a good designer, they need to be a very well-rounded individual, and most art school curricula can't provide that exposure to their students," he says. "Art students at AU take courses in other disciplines that students in dedicated art schools aren't exposed to. That's why I'm here."
Keeping Himself Cutting-Edge
In addition to his work in the classroom, Montes-Armenteros has designed posters for Department of Performing Arts events since 2006—a job he shares with his fellow faculty member Kate Resnick.
"It allows an outlet for the faculty to do not-for-profit work in addition to continuing working with clients," he explains. "If you're not doing professional work consistently, you find yourself falling out of touch with what the profession expects—and you can't provide students with what they need if you don't know what the profession expects."
A Kid at Heart
In his rare spare moments, Montes-Armenteros may be found partaking in one of several hobbies, some of which betray "both my geekiness and my age." A self-professed movie lover with "a weakness toward sci-fi," Montes-Armenteros also plays guitar and has started collecting Madelman articulated action figures from 1970s Spain.
He jokes, "I play with them the way grown men play with toys—put them on a shelf, take them down to look at them occasionally, and then put them back."