Student Success Story
Finding Purpose in Her Diabetes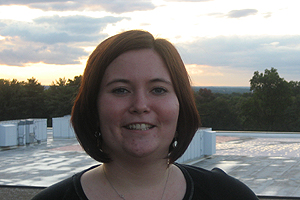 Kelsey Stefanik-Sidener, SPA/SOC '11, can barely remember what life was like before she was diagnosed with type 1 diabetes at seven years old.
Stefanik-Sidener knew the disease would always be a major part of her life, but never imagined the role it would play in her career. That is, until she connected with Abby Bownas, her mentor through the SPA Leadership program.
Bownas, an AU alumna, was serving at the time as Director of Federal Affairs at the American Diabetes Association (ADA). She recommended that Stefanik-Sidener apply for an internship at ADA. Stefanik-Sidener took advantage of the networking opportunity and, thanks in part to her connection with Bownas, landed a summer 2009 internship.
"It worked…well that my mentorship turned directly into an internship opportunity," she said.
Stefanik-Sidener's work at the organization focused on health care policy. She wrote letters to Congress, conducted background research for proposed bills, compiled fact sheets for members of the association, and even attended briefings and hearings. The summer was a particularly exciting time because of the debate surrounding health care legislation. The association focused on getting fair insurance coverage for people with diabetes and related issues, which meant that Stefanik-Sidener stayed busy.
"They [gave] me so many opportunities to try different things," she said. "They [asked] me what I [wanted] to do and [found] a way to do it."
Stefanik-Sidener continued her internship through the fall. One project she has particularly enjoyed is the "Story Bank Initiative." People submit their stories about their experiences with diabetes to the association. Stefanik-Sidener then reads them and follows up to interview interesting individuals for longer pieces.
Though rewarding, the task can be an emotional one. "As you might imagine, they're not usually happy stories because people with diabetes face difficulties, especially with getting health insurance," Stefanik-Sidener said. "For me, it can be sort of overwhelming."
But she often finds that living with the same disease as those she interviews is an asset. "They think they're just talking to someone in Washington. I can hear the change in their voice [when] they realize I've lived it, too," Stefanik-Sidener said.
Stefanik-Sidner's experience in public health is not limited to her internship at the association. She also serves as the director of student health services for AU Student Government and is the founder and president of the campus club Mind Over Meters, which works to make AU a more diabetic-friendly campus. This year, Mind Over Meters formed a team that took part in the Juvenile Diabetes Research Foundation's Walk to Cure Diabetes.
As a junior, Stefanik-Sidener is looking ahead to the future. After discussing post-graduate plans with Chris Hughes, her SPA career advisor, Stefanik-Sidener now wants to pursue a graduate degree in public health to complement her bachelor's degree in political science. "I'm definitely going to wind up in public affairs or government," she said.
She envisions working at an organization like the Juvenile Diabetes Research Foundation or the Centers for Disease Control—or even returning to the American Diabetes Association. "I could see myself working with ADA really easily," Stefanik-Sidener says.
For now, Stefanik-Sidener is sure of one thing: her diabetes won't hold her back.
In October 2009, American University nominated Stefanik-Sidener for the prestigious Harry S. Truman Scholarship.
"From the very minute I was diagnosed, it was never going to be an impediment to anything I wanted to do," she says. Her internship and national scholarship successes are indicative of that.