Faculty Success Story
Professor Brings Global Views to the Classroom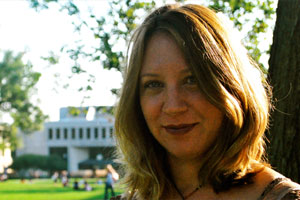 When literature professor Rachel Louise Snyder moved to Cambodia six years ago, her mission was to write a book on globalization. After Fugitive Denim: A Moving Story of People and Pants in the Borderless World of Global Trade was published, printed in six languages, and named by the Library Journal as one of the best business books of 2007, Snyder felt it was time for a new mission: to return to teaching.
This fall, Snyder joined the Department of Literature's faculty. She is currently teaching The Literary Imagination, as well as a Creative Nonfiction Workshop in the MFA program. "My colleagues and students have made this profound transition a lot easier for me," she says. "They have a grasp on the world of art and the globalized world."
Snyder says her time in Cambodia has changed the way she approaches the classroom. "Because I've been a professional I do feel I understand how to talk about writing in a way I didn't before," she reflects, adding, "I [no longer] have expectations of how students will be in class—it's all discovery."
A frequent contributor to public radio shows including This American Life, Marketplace, Morning Edition, and All Things Considered, Snyder celebrates the ways that journalism and fiction writing can compliment one another. "Writing of any kind—fiction or nonfiction—is going to hone your skills," she says. "And writing radio scripts has [helped me] craft the precision of my writing more than anything else."
In addition to teaching, Snyder plans to both work on a novel and host a public radio show about the culture of globalization in the coming year. "I've got one limb in several different worlds," she says. "I think finding a balance between what I've done and where I'm going is an exciting prospect. I get to be in both worlds and I think it gives me an interesting perspective."