Professor Profile: Chris O'Brien Encourages Sustainability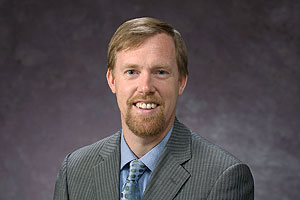 Chris O'Brien is transforming the way that the campus thinks about sustainability. Joining American University in 2009 as the university's first Director of Sustainability, he has helped to implement several new initiatives that harvest natural resources in low-cost ways to help reduce energy use on campus.
O'Brien is the Treasurer of the Fair Trade Resource Network and co-owns the Seven Bridges Organic Brewing Supply Cooperative.  He serves on the ASTM Sustainability Executive Committee, the Electronic Products Environmental Assessment Tool (EPEAT) Advisory Board, and the Association for the Advancement of Sustainability in Higher Education's STARS Steering Committee.  He has a Bachelors Degree in Liberal Arts from Penn State University and a Masters Degree in Science and Technology Studies from Rensselaer Polytechnic Institute.
You can follow O'Brien and learn more about greening the American dream at twitter.com/GreenAU.