Environment
Victoria Kiechel Is AU's Greenest Teacher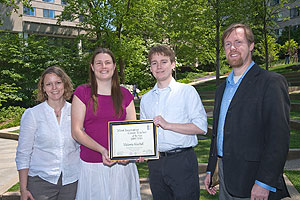 The Center for Teaching, Research and Learning handed its Most Innovative Green Teacher of the Year award to Victoria Kiechel on April 23.
Actually, Kiechel, who teaches Sustainable Cities and Sustainable Design/LEED Training at American University's School of International Service, was in Massachusetts giving a presentation at Harvard on sustainable teaching, so two of her students accepted the award on her behalf.
"Being in Vicky's class has been a fantastic experience," senior Allie Dart said. "She really gets her students involved."
Students in Kiechel's LEED class have examined work space in offices across the AU campus to see what level of the Leadership in Energy and Environmental Design certification the buildings qualify for. Senior Matt Lehtonen assessed whether occupants in the Katzen Arts Center have access to views and natural light from their desks.
"She does this because she's very passionate about it," Lehtonen said. "Working for LEED certification on campus has been a fascinating experience."
The Green Teaching Program was started by CTRL and EcoSense in 2008 as part of an attempt to reward faculty members who are environmentally-conscious teachers, while giving green courses a familiar face among students. Faculty can qualify for a Green Teaching Certificate by answering a number of questions about their efforts to make their courses more sustainable. Upon evaluation, qualified courses will be rewarded with a green apple seal for each of the four levels of the Green Teaching Certificate they earn. The seals can be put on syllabi and Blackboard pages to market courses as green.
This academic year alone, 128 faculty members have been certified.