Research
Teaching, Research Are Focus of Ann Ferren Conference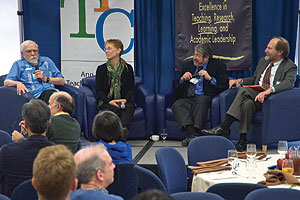 When the Center for Teaching Excellence changed its mission — and its name — this summer, research became one of its major focuses.
That was evident at the 21st annual Ann Ferren Teaching Conference, held Jan. 8 and sponsored by the newly named Center for Teaching, Research, and Learning.
Provost Scott Bass presented a breakout session titled "Action Research: From the Classroom to the Community," which illustrated how introductory social science research methods (survey research) instruction can be incorporated into a practical study for a community-based agency.

Later in the day, Ralph Pollack of the University of Maryland, Baltimore County, led a session on balancing teaching and research.
"Many of the new things we're doing focus on research," said Bill DeLone, the center's director. "We've created a new teaching with research faculty award, and we'll be announcing within a few weeks who the winner is. We've expanded our small grant program to include research."
The center also has been training faculty to use new software that allows teachers and students to gather virtually. In the case of a pandemic or extended faculty illness, the professor can use programs like Wimba to ensure that no matter where teachers and students are physically, class can go on.
Teaching remains at the core of the center's mission and certainly the Ann Ferren conference. There are no AU professors more qualified to discuss its nuances, frustrations, and joys than Pat Aufderheide, Jack Child, and Alan Kraut.
While the three, the keynote speakers during a lively lunchtime panel discussion on the art of teaching, have all been named University Professor for their outstanding work, they say they weren't always naturals in the classroom.
Aufderheide, a former Scholar-Teacher of the Year, said she was "terrified" when she initially stood before students, and Kraut also harbored apprehensions.
"When I first started teaching I was so nervous that I wrote all my lectures out," he said. "It was like having a script. That has changed. I find the flow of the class is so much better if I don't do that. It's become a much more natural, less scripted, rigid process."
Aufderheide shies away from simply delivering lectures. Rather she starts each class with a distinct learning objective for her students, and utilizes different teaching methods to achieve that goal.
"Nothing gets done if I just tell them [the material]," she said. "That's actually not teaching. It's exciting to see how many ways I can engage the students with the material. It's been a thrill finding out all the ways you can do that."
Child has turned to some unconventional methods as well. The white-haired language and foreign studies professor has even dressed up as Fidel Castro to impress his points on Cuba to students.

His advice for the 331 faculty in the audience was simple: know your material and respect your students.
"Teaching is hard," Kraut said, "if you do it right."