Government & Politics
Nose, Grindstone. Hypothesis, Tested.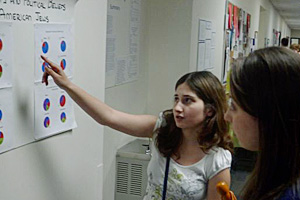 When it's midnight, and you are sitting in the lab, troubleshooting and yelling at the computer screen, it's hard to believe you are in the middle of a formative moment.
For undergraduate government researchers, though, the trial-by-fire intensity of Introduction to Political Research, Government 310, means that you've tested a hypothesis thoroughly and truly know your data. In time, you've come to own an idea, and when you leave AU, employers and admissions boards know you are a serious person with masterful skills.
"Students use it for job applications, writing samples for graduate school. I've had students either say I got my internship or I got my job because of the research I did in your class," said Kimberly Cowell-Meyers, a Department of Government professor in the School of Public Affairs.
There's no getting around it, Government 310 is a tough course. Every government major will take it during sophomore or junior year. They learn research design and how to write a literature review with training from research librarian Clement Ho. They number crunch with the assistance of the Center for Teaching, Research and Learning's (CTRL) Social Science Research Lab (SSRL), write up their work, and do a poster presentation at an end-of-semester reception for students, deans, and representatives from the provost's office.
While some students chide that the course should be two semesters, or a course with a lab, they learn — intimately — just how much work it takes to contribute to a body of literature. By the end of the class, students have practiced working in their field of choice.
They are true student-scholars.
"I just get chill bumps when I see the transformation that happens to them," said Cowell-Meyers. "They come in intimidated and know they will have to really step up to the plate. Some are squeamish about statistics, nervous about a topic of interest, but by the end, they are so enthusiastic about what they have learned and so proud of themselves."
On topics ranging from the changing effects of education on voting and trust in government, to public opinion on immigration, same sex marriage, and government spending, most draw on a database of scholarship and data stored through the Interuniversity Consortium for Political and Social Research. From pools of straight numbers they suss out relevant data and work with CTRL assistant director, Professor Assen Assenov, and SSRL doctoral consultants to run computer modulations and make quantitative conclusions.
Assenov is particularly impressed by the end of semester poster presentations and said, "It is truly a celebration of their research. It is inspiring, it also shows appreciation of the School of Public Affairs community, from the dean himself all the way to the graduate and undergraduate students, to the faculty, for the work and study that the undergraduate students do."
In SPA, justice, law, and society students as well as government majors (with the exception of CLEG) are required to do this sort of undergraduate research and have had that requirement for seven years.
"Our students should be able to analyze facts in the world around them… demonstrate where it is inadequate or fallacious, and where they need to gather new evidence," said Meg Weekes, SPA Associate Dean for Academic Affairs.
This first experience with undergraduate research is a stepping stone, preparing students for capstone and independent study, and for those whose work merits it, SPA's research symposium, now entering its fourth year.
The 310 class, and the stair-step introduction to research methodologies marks AU's research program as distinct from other programs in the country, said Cowell-Meyers.
"We're systematizing it so people realize AU has joined the top ranks, equipping [students] for top positions in the world," noted Weekes.

Research around Campus
While SPA's dedication to undergraduate research sets it apart from other universities, on campus, the push for student proficiency in research is not isolated to the social sciences.
A similar sophomore-level Introduction to International Relations Research course, SIS 206, demands both literature review and research design, and allows students to delve into topics using quantitative or qualitative methods. This April, the School of International Service held its first undergraduate research poster presentation, selecting 28 students from 12 sections of the course to exhibit their findings.
Professor Betsy Cohn, coordinator for SIS undergraduate research explains that students can begin as sophomores researching for SIS 206, gain presentation experience through the poster session, then compete for a spot in the SIS Undergraduate Research Symposium. This year, twenty-four SIS students were invited to the National Conference for Undergraduate Research; 17 attended and presented. Altogether the university sent 19 students to the conference.
Cohn commented, "We are building that core of students who are really interested in doing research."
Likewise, SOC's public communications majors have a junior-level research course requirement, through which they learn research design, data collection, analysis, and interpretation. Their research is active work and involves running their own secondary research including focus groups and surveys.
Kogod's marketing majors have a similar research methods course. At CAS, the research requirement is widespread. For example, research design and methods courses are required of psychology students, research capstones for language and foreign studies majors, or, for instance, in the chemistry major, students are required to complete an independent study research project or honors level research.