Students Celebrate On-Campus Thanksgivings
By Patrick Bradley
November 26, 2012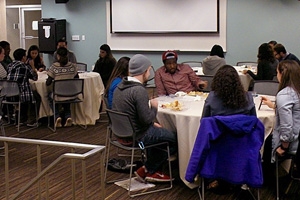 While many students headed home for Thanksgiving this year, there were some that – due to distance or storm damage – had to spend the holiday on campus. With that in mind, the university's residence halls opened their doors and kitchens to this group, setting the table for a celebration of AU friends and family.

Along with the students' Residence Hall Association, resident director of Letts, Clarke and Roper Halls Keesha Ceran helped organize the event. An AU alumna and former resident assistant, Ceran has a long history of building community when campus quiets down each year.

"The idea had been that I would be cooking the Thanksgiving dinner for residents who were in Letts, Clark and Roper [Halls] over the break. It is a tradition I held as an RA here with my residents while the RA on duty over the holiday break, and [it's] something I wanted to continue to do in this role," she explains.

This year, the tradition looked a bit different as the aftermath of Hurricane Sandy left some students unable to return home.

"After the storm, people knew there might be a bigger need," she says. "It changed the scope of how we were going to do it. The hurricane happened and we knew, with a majority of students who are from the Northeast coast, primarily New Jersey and New York, that there might be students who were going to be more largely impacted by the storm and not being able to go home."

To accommodate this potential need, Keesha and RHA hosted two dinners between north and south campuses in the Letts and McDowell Halls Formal Lounges to feed some forty in attendance. International students joined those from the West Coast and areas affected by Sandy to enjoy a taste of home or – for those from abroad – the first experience of an American tradition.

As a resident director, Ceran's job includes spending some holidays at her post. It's easy for her to set a table that offers everything from turkey to mashed potatoes and stuffing because – as she says – it's exactly what she and the other RDs need as well.

"We live on campus," she says. "When you know you're here, you know what things you miss or like about the holidays when being home. It's easy to start with yourself and what you get comfort out of but then share it with people you know that are going to be here and want the same things as well."

Ceran and RHA aren't the only ones helping students enjoy Thanksgiving on campus, however. In fact, another in-hall tradition has roots that date back almost three decades. An Aramark (AU's housekeeping contractor) staff member affectionately known as Ms. Margaret has been cooking a holiday meal for students over the past 29 years.

"She's the one who spearheaded the longest Thanksgiving tradition we have on campus," Ceran explains of Ms. Margaret, who prefers her generosity to go without the spotlight. "She likes to do it for the students. Miss Margaret is one the nice fixtures of American University, one of the unsung heroes. She loves being able to interact with and do things for students. It's not about her, it's what she loves to do and give back in that way."

So, whether class is in session or the campus all but empty, the university always finds a way to lift up its students. It's what Keesha and her department, Housing & Dining Programs, are and will continue to be about.

"A lot of the traditions born out of this office have to do with the fact that we are human and there are things we enjoy about how we grew up, holidays, and different things that we like to do," she explains. "We want to share with students and develop that in ways that they can make a new home here at AU."

While the tables may already be cleared, Ceran hopes that at least a few students now feel that sense of home at AU – an institution dedicated to serving up a supportive community for all its members.