AU Insiders
Web Developers Played Essential Role in Getting New American.edu Off the Ground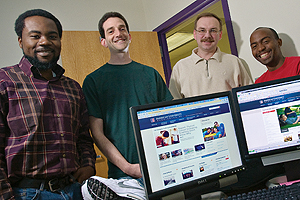 Over a hundred people across campus played important roles in the success that is the new american.edu. But without the efforts of Web developers Kabo Botlhole, Marico Hawes, Sergey Korsakov, and Michael Mendelson from the Office of Information Technology, the site's launch never would have left the ground.
"Without these four guys, it would not have happened. Period," said Michele Handlir, director of Web development. "It was fundamental to getting the site up and running. You can't underestimate their accomplishment and their achievement."
Korsakov describes the developers' job this way: "We're the people behind the screen. When people hit the button, we make sure it works."
Sounds simple enough—but of course, it isn't. After the design firm, HUGE, developed the wireframes (essentially the site's blueprints), it was up to AU to actually make the site functional. In July the four Web developers traveled to Boston to meet staff at PaperThin, the developer of american.edu's content management system, CommonSpot.
"It had great functionality overall for what we wanted, but it had to be customized to achieve exactly what people on campus needed," Botlhole said of CommonSpot.

So the developers, with an assist from some PaperThin employees and an independent contractor, began writing code and working within the CMS itself to shape it to fit the university's design plan. A tight timeline was a constant presence, and the four gave up many weekends and spent late nights at the office to ensure the job got done.
They had daily meetings to make sure the project was on schedule, and teamwork, they all said, was essential.
"I have had several big projects in my life in the past," Korsakov said. "Without working as a team, we couldn't have done this. When you can rely on someone who knows something you don't, that is very important."
All four developers are quick to credit others in OIT for helping bring the site to life.
"A lot of different groups from the university were working together, but in addition to that we also had a lot of different groups in our IT department that had to work together," Mendelson said. "From dealing with servers, testing security, rewriting programs, a lot of people contributed."
Including the vendors AU worked with.
"It was a three-part effort," Handlir said. "It was HUGE creating the design and interaction, and that was sometimes more theoretical. Then there was when the rubber hits the road for these guys to try and figure out how to make it happen. Working with our partners at PaperThin was the third piece."
While the fearsome foursome's work is far from done—their days are now largely spent solving the inevitable problems that arise when a site this large is launched—they do take a measure of pride in the role they played in building the new american.edu.
"I have designed a lot of pages, and when I look at something so long, it usually bores me," Botlhole said. "But the look of this site doesn't bore me. There are so many cool elements that have been built into it to make it dynamic. It's almost like a living, breathing entity, and that is rare in academia. That's why I think it is so unique."