On Campus
Food for Fines at the Library Borrowing Desk, Nov 18–Dec 20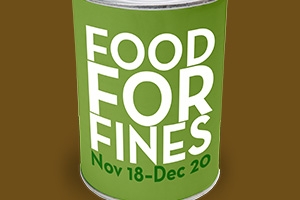 For more than fifteen years, we have partnered with the AU community to provide canned and other food for those in need, while giving you a break on your library fines. This year we are partnering with Capital Area Food Bank's Back Pack Program.
You can pay up to $20.00 of your AU fines with donated food. The Food for Fines offer does not extend to other consortium libraries. Food for Fines ends on December 20, so take advantage of this opportunity while you *ahem* can.
The list below details what food items will be accepted for this program. You may also request a copy of this list in-person at our Borrowing Desk or by contacting the Borrowing Desk by email, circulation@american.edu, or phone 202-885-3221.
Food for Fines items accepted in 2013:
Canned food
Canned fruits (without corn syrup)—8oz or larger 1 can = $1.00 off fines
Canned vegetables—8oz or larger 1 can = $1.00 off fines
Canned beans (black or kidney)—8oz or larger 1 can = $1.00 off fines
Soup (especially chicken noodle or tomato)—8oz or larger 1 can = $1.00 off fines
Canned tuna—6oz or larger 1 can = $1.00 off fines
Canned chicken—6oz or larger 1 can = $1.00 off fines
Boxed/dry food
Boxed rice dishes—1 box 7 oz or larger = $1.00 off fines
Plain rice—1 bag 32 oz or larger $1.00 off fines
Boxed mac and cheese—1 box 7.25 oz or larger = $1.00 off fines
Granola or cereal bars—1 box 6ct or more = 4.00 off fines
Single Serving Snacks—1 box 8ct or more = $4.00 off fines
Peanut butter (no hydrogenated oils/trans fats)—1 jar 18oz or larger = $4.00 off fines