Technology
Little Tweaks Make a Big Difference on AU Home Page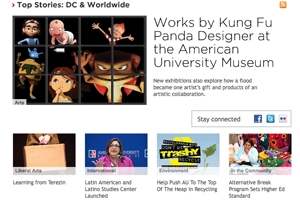 American University's award-winning Web site just got even better.

On March 30—one year after the university unveiled its vibrant, new site—AU debuted several navigational and design changes that will make the home page even more user-friendly. These changes were already set in motion when AU won the CASE bronze award for "best institutional homepage" in November 2009.

Improvements include:


social media callouts for Facebook, Twitter, and Flickr
a rotating "Discover AU" slideshow of eye-catching images from around campus and across D.C.
an RSS feed button enabling visitors to subscribe to AU news
eight "top stories"—instead of an overwhelming 12—under the main hero image
a more prominent "top drawer" where visitors can find more information about "degrees, directions, and shortcuts," including links to the IT help desk and AU employment opportunities
valuable real estate below the Discover AU box has been freed up to promote initiatives like summer classes
more visible placement of much-praised "AU by the Numbers"

According to Michael Heasley, director of Web communications and chief Web strategist, the tweaks are the result of user-testing by faculty, staff, and students.

"It's an ever-evolving process and ongoing minor adjustments are always a good thing," he explained. "It's important that the overall experience of our site visitors be the best it possibly can be."