Library Lends E-Book Readers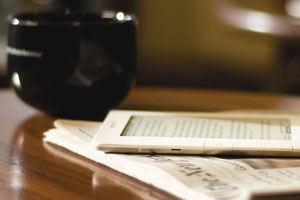 Curious about e-book readers? Want to try one out? AU Library is lending Amazon Kindles and Barnes & Noble NOOKs to AU students, staff, and faculty. Checkout is available through the combined Copy Center/Reserves desk on the lower level. The Kindle is pre-loaded with twelve popular fiction titles; you can add your own titles to the NOOK. The lending period for either device is two weeks. Please get your requests to sample an e-book reader in as soon as possible because the library sometimes has a waiting list for this very popular service.

The e-book readers were made possible through the generous gift of Professor Jack Child in the Language and Foreign Studies Department and other donations to the Library Technology Innovation Fund. Having the e-book readers available gives members of the AU community an opportunity to experiment with a technology that is becoming more and more widely used. The Library already makes more than 100,000 e-books available through SearchBox and the ALADIN Catalog. Most of these e-books are available on the Web. E-book readers offer even greater portability. The Library is closely following e-book and e-book reader trends to determine the most convenient ways to deliver information to AU users.