Alumni Success Story
Social Media Savvy Gives Alumna Edge in "Live! with Kelly" Contest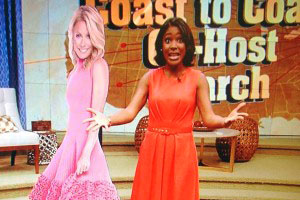 Markette Smith, SOC/MA '07, used social media skills learned in AU's Interactive Journalism program to propel herself into the final rounds of a nationwide "Co-host Live! with Kelly" contest. A true multimedia journalist, Smith is a reporter for National Public Radio affiliate WAMU 88.5 FM, reporter and social media correspondent for CTV News, and entertainment correspondent and red carpet host for AMC Theatres. SOC talked with Smith about her career and the contest.

Q: The Live! with Kelly Cohost competition has given you a LOT of exposure. In what other ways have you benefited from the experience?
Yes, I have gained a lot of exposure. I am hoping that this will help me transition from being known as a Web producer and radio reporter, into a career in television. I have worked very hard over the years to make that transition and to rebrand myself as a digitally savvy TV reporter and host, but it has taken about 5 years to gain momentum.
I'm hoping know that I can use this opportunity to land a full-time television gig and use my Web and social media skills to enhance the broadcasting skills I will bring to that position.
Q: In your in-person LWK pitch - after you had already reached the Final Five - you said it's always been your dream to host a morning talk show. What would you like most about that job?
I think it would be being able to educate, inform and inspire others. I know that talk shows and entertainment are sometimes not looked at as being as valuable as hard news, but I believe it serves as real and important purpose.
I get so many people who I know, and some I don't know, who say that seeing me follow my dream has inspired them to go back to school or change career paths to follow theirs. I also do freelance reporting for AMC movies, and each time I interview an actor or a celebrity who has made it -- someone who has taken a risk and quit their "9-to-5" in order to pursue their dream -- I always get a positive response from the public.
For example, a former intern of mine came to my house on the Fourth of July. She grabbed both of my hands while we were standing in my kitchen and said, "You have inspired me. I see all of the hard work you are doing, and it makes me want to go out and pursue writing."
That was one of the most gratifying experiences of my year!
Q: You've been a web producer, reported for both radio and television, blogged, and been a social media correspondent. Do you have tips for others looking to work across platforms?
I have always wanted to do television, but when that door was closed, I still had to figure out a way to support myself financially while simultaneously building my skills, so I worked as a Web producer.
It has been very difficult, especially with the economy and the field of journalism shrinking, but also very rewarding because I have been able to develop expertise on new and emerging platforms. I am grateful for every experience because I have learned something incredibly valuable at each stop on the journey.
I would tell anyone out there to not take no for an answer. If you want to do television, and every TV station in town says, "No," then go to the next town, and the next town and eventually someone will say "Yes." And when all else fails, enter a contest like I did!
Q: In addition to being the yang to Kelly's yin, as you said in your on-air pitch, what would you bring to the show that none of the other contestants can bring?
I think I could bring a lot in terms of bridging the digital divide. I would love to do a tech segment educating the TV audience about trends in social media and technology -- how they can make their lives easier and how they can protect themselves online.
The digital landscape is exploding, and I think there's room for someone like me who has both TV hosting skills and Web/social media skills.
Q: Is there anything you learned in the American University IJ program that you have been able to use in the LWK contest?
I feel like the IJ program has well-equipped me for online campaigning for votes in this competition. Right away, when I found out that I needed votes in order to advance to the Top 10, I developed a social media strategy with my husband, a designer, and my friend, a digitally savvy stay-at-home mom.
We created custom graphics and started pushing our message to vote on various platforms, including Pinterest, Get Glue, LinkedIn, Google+ and the social media powerhouses that are Facebook, Twitter and YouTube. In addition we sent out an e-news letter using MailChimp, a free e-newsletter service.
Leaving no social media platform untouched, we launched an around-the-clock effort that after a week took on a life of its own. It became so viral, that while I was asleep, people were still Tweeting, Facebooking and tagging others telling them to:
"Vote for @super_markette in the @LiveKelly #Cohostsearch at: www.livewithkelly.tv."
The online messaging eventually led to radio, TV and online media coverage. I truly believe it was social media and our campaign that propelled me into the Top 4 position out of thousands of entrants.