Alumni Success Story
Ashok Gupta Works Toward
Clean Energy Policies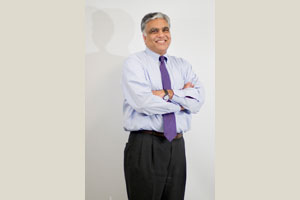 Growing up in Washington, D.C. in the 1970s, Ashok Gupta, CAS/MA '82, saw the connection between energy policies and economics. The decade started with the first Earth Day celebration, followed by the oil crisis in 1973, and ended with a debate over nuclear arms – all formative experiences for Gupta's passion for science and government policy.
"I am just saving the planet," describes Gupta of his job as director of the Air and Energy Program and as senior energy economist at the Natural Resources Defense Council (NRDC) in New York.
A self-described "math and science type," Gupta graduated from Georgetown University with a degree in physics and mathematics, but then realized he was "very interested in social issues, public policy, and energy policy." A graduate degree in economics made a perfect complement to his science background and gave him the tools to work toward cleaner energy.
At AU, Gupta enjoyed a close relationship with a faculty mentor, Pham Chi Thanh, emeritus professor, who was "very supportive, challenging, and inspirational with his expertise in resource economics and growth theories."
Before moving into the policy sector, Gupta taught math and science in D.C. public schools and in New York City private schools for several years, then moved to the Public Utility Law Project in the NYC mayor's office during the Koch and Dinkins administrations.
But Gupta always knew he wanted to be at the NRDC; he has worked there since 1991.
The nonprofit organization's lawyers, scientists, and environmental experts work on global warming issues, energy efficiency, and renewable energy programs. With a membership of 1.2 million individuals, NRDC works with governments and private sector to find solutions "to transform our energy systems," Gupta says.
He is optimistic that energy issues are a top priority for the Obama Administration. "It's totally tied to economic issues and how we can grow our way out of the recession. We need to invest in clean energy," he says.
"Businesses see it as a huge opportunity and we have a lot of support to move forward," he says – toward implementing solutions to stave off global warming with green buildings, solar and wind power, and biofuels.