Alumni Success Story
Hope Springs Eternal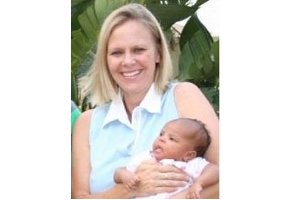 MA, International Development, 2004
Lisa Jamu is the founder and managing director of Stepping Stones International, a non-profit, non-governmental organization (NGO) working with teenage orphans and vulnerable children at an after-school program in Botswana. At Stepping Stones, Jamu's responsibilities include working with the government of Botswana, advocacy, systems implementation and planning activities for the center's program.
After earning her MA at American University, Jamu heard about Project Hope internships abroad and decided to meet with the Country Director for Malawi and the Regional Director. Within a few days of the interview, Jamu received a phone call that she was going to Malawi and working on a malaria project with insecticide-treated nets. It was there that she met her future husband, Styn, working on the same project.
Jamu's internship with Project Hope gave her the work experience she needed to get a job with Population Services International doing social marketing. After staying there for eight years, Jamu had gained substantial experience on how to work with a variety of donors, finance, program management, budgets, and all the skills that are necessary for running an NGO. It was these experiences that led her to start Stepping Stones.
Jamu says she uses the skills she gained at the School of International Service every day at Stepping Stones. She advises that SIS students take full advantage of the opportunities at AU, explaining, "the style of teaching is interactive, thought-provoking, and uses case studies and simulation to allow you to understand reality. You will be able to use your education to effect change in the world at many levels. The theory learned can be applied to policy situations, statistics can help in research for projects and the elective courses can be used in program management, and designing and implementing projects in developing countries. The professors at American are excellent role models, because most of them have experienced field work and have backgrounds in international development or related fields."