Alumni Success Story
Joan Challinor Looks to Past
to Understand Present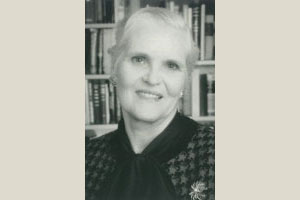 For Joan Challinor, the Colonial Era of American history is that era when our country was "at its best" and the founding fathers were drawing on ancient history to create a new republic. Yet she knew that in order to fully grasp Colonial America, she needed to understand what the founding fathers were reading when they created this nation. She enrolled at AU for a master's degree in ancient history and delved into Greek and Roman texts.
"Professor Valerie French's ancient Greek seminar was one of the finest courses I ever took," Challinor recalls. "She taught me how to think." 
"History always seemed to me like stories that historians interpret," says Challinor, CAS/MA '74, CAS/PhD '82, a public historian with a specialty in American Colonial history.
With a rich history of her own, Challinor grew up in Manhattan as the youngest of six children, lived through the Great Depression, supported her husband's decades-long career at the Smithsonian, and raised four children before deciding to get her doctorate in American history at age 55.
"When you're older, you know what to study, what's important," she says. "I studied all the time. I didn't have to worry about dating." Since then, she has worked with organizations that created educational materials for the anniversaries of historical events such as the Treaty of Paris (for which she was a national chairperson), the U.S. Constitution, the Declaration of Independence, and the Bill of Rights.
In 1995, Challinor was appointed to the National Commission on Libraries and Information Science by President Bill Clinton. She served as the commission's chairperson from 2003 to 2004.
As an advisory agency to the President and Congress, one of the commission's major accomplishments during her service was setting up a plan immediately after 9/11 to use public libraries for disseminating important civic information to the communities.
Although now retired, Challinor continues to serve as a trustee for a foundation that gives graduate students funding for research. "They are the most interesting people! One learns from their applications where the academic world is headed."
Challinor has lived in the same Washington, D.C. home for 40 years and recently became widowed after 56 years of marriage. Well-informed, she muses often on current events that were set in motion centuries ago.