Alumni Success Story
Dr. Dan Hatton (CAS/MSTM '85) receives coveted award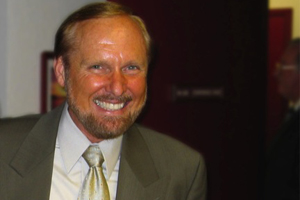 On January 19, 2012, during Nova Southeastern University's Annual Celebration of Excellence, Dr. Daniel K. Hatton, CAS/MSTM '85, Colonel, US Army Medical Service Corps (ret) was a recipient of the highly coveted Distinguished Alumni Achievement Award for continuing knowledge transfer, entrepreneurism, community service, leadership, and professional excellence. 
Hatton received his Master of Science in management and information systems from American University in 1985 and has been promoting the university ever since.  During his time workingin the US Army Medical Department-- where education is nearly everything-- he was in contact with hundreds of people. The majority of the people were seeking a solid graduate school and education. Hatton referred them to AU, encouraging the best and brightest to the AU programs. 
Hatton says, "When I discuss AU with anyone, I probably sound like a campus recruiter. However, it's easy to do that with something you truly believe in!"
Hatton is currently an executive management consultant to XL-ANCE, a French e-learning company, a board member and principal of ClassLeader, a start-up company based in Ft. Lauderdale, and an adjunct associate professor of biomedical informatics at Nova Southeastern University's College of Osteopathic Medicine. Further, his professional background includes several healthcare assignments with the US Army, and stints as vice president of a major global corporation, CIO for one of the largest counties, in California, and multiple adjunct professorships in the U.S.A. and overseas.
Hatton has continually committed to extensive community service supporting families of deployed military service members. Stretching back a bit, he performed considerable volunteer work and garnered additional military support for the homeless in Homestead, Fla. subsequent to Hurricane Andrew.
Hatton has received many major military awards, including a lifetime appointment to the US Army Medical Department Regiment by the US Army Surgeon General for military, post-military, and community service; the US Army Order of Military Medical Merit.
Hatton is certainly deserving of his most recent award as well as all of the recognition he has received. We applaud him for his many efforts on behalf of the military and federal government-and for continuing to promote AU in a positive light to people across not only the nation, but the world.