Comfort Food
By Halley Ofner
March 5, 2009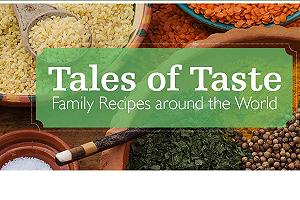 A conversation about home and holidays that started last Thanksgiving in the International and Student and Scholar Services (ISSS) office morphed into an idea to gather recipes into a cookbook. That cookbook has become Tales of Taste: Family Recipes from around the World.
The idea was for the cookbook of recipes that remind the contributors of family, friends and celebrations. The project drew on staff, students and faculty who brought together their recipes and stories into one amazing publication. In addition to the content, help came in the form of photographers, designers and deans who all volunteered their time and energy to make Tales of Taste a reality.  
All proceeds from the cookbook (sold for a suggested donation of $20) go to the International Student Emergency Fund. The fund assists students in good academic standing who need to borrow small amounts of money to help them get through temporary hardships such as paying tuition, buying textbooks, or affording housing.  
"The most rewarding part of the experience," shares Senem Bakar, assistant director of ISSS and organizer of the project, "was to see how people gathered around a common purpose for a very deserving cause, sharing their very special recipes."