Business
The Business Writing of Bards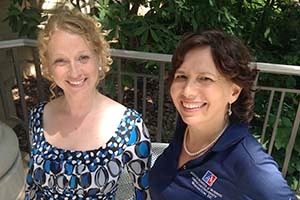 If Emily Dickinson were alive today, could she have written a winning elevator pitch? The notion seems almost absurd, given the poet's ethereal style and well-known reclusiveness. Yet on further inspection, poetry may not be all that different from business writing. Two staffers at the Kogod Center for Business Communications (KCBC) at American University have straddled both the business and literary worlds.
Concision and Punch
Bonnie Auslander is director of KCBC, and she's also a published poet. She recently finished up a fellowship at the Virginia Center for the Creative Arts, an artist colony for writers, composers, and visual artists in the small town of Amherst. During an earlier excursion to the colony, Auslander met fellow published poet Shenandoah Sowash. In April of this year, Sowash came on board as assistant director of KCBC.
Auslander explained the logic of hiring someone with Sowash's background. "Over the years, I've hired a lot of creative writers here. And it has always worked out well," she says. "They just get it."
In a recent interview, Auslander and Sowash discuss how poetry writing and business communications intersect. Similar to poetry, most business writing needs to be concise. Both mediums challenge the writer to not only use words sparingly, but to convey a powerful message. "You're paying attention to the impact on your audience, and on word choice and language in various ways," says Auslander. "The economy of it is helpful," Sowash adds. "Every word matters."
Creative Environments
Common literary methods can be applicable in other teaching areas. Having attended so many writing workshops, Auslander and Sowash are able to provide students with constructive feedback.
"The workshop culture can be mocked and it can be bad, but you really do learn how to critique each other in a way that's helpful. And that is the core of what we do," says Auslander. "We try to help the students by steering them towards their ideal text or presentation."
The growth of the Internet has unleashed newfound creativity in the economy. Therefore, artistic endeavors, such as painting or poetry, might prove useful in tech hubs like Silicon Valley. "I think that this start-up culture that's been going on is probably more creative and art-friendly than the more traditional corporate environment," Sowash says. Spencer Swan, a Kogod grad who worked in KCBC all four years, recently accepted a job at Facebook in Austin, Texas.
Music, Lyrics, and Inspiration
Based on suggestions from recruiters, the school saw a need to improve business students' writing and public speaking skills. To assist in this effort, Auslander was hired in 2006 and she launched the Kogod Center for Business Communications. Among other services, KCBC helps students with pitches, team presentations, cover letter writing, and interview preparation.
A piano player with two violin-playing children, Auslander says she was drawn to poetry through her love of music. She earned an MFA in poetry from University of Massachusetts Amherst, and she spent a semester teaching creative writing and English composition in Bangladesh. Her work has been featured in a number of journals, and a new poem will appear in the literary magazine Sweet.
Sowash also emphasizes the symbiotic relationship between music and poetry. Along with some of her favorite poets (Anne Sexton, Sylvia Plath), she includes musicians like Leonard Cohen and Joni Mitchell. Sowash earned her MFA from University of Maryland. During her involvement with the Center for Talented Youth, she taught advanced poetry to eight-year-old children.
Most writers suffer through numerous rejections before finally getting published. Finding the time to write—much less submit —poems can be incredibly difficult. So how do Auslander and Sowash secure bylines? The short answer is consistency. Auslander is committed to writing every morning, even if it's only for five minutes. Sowash pencils in time to write every Sunday morning.
Though writing is an arduous process, Auslander stresses how it can be a therapeutic break from daily madness. "We're all just overloaded and distracted and constantly bombarded with stuff," Auslander says. "And I do think poetry is the ultimate antidote to that."