Literature
Books for Pleasure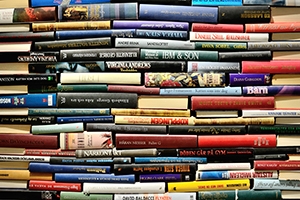 With the intensity of life from September through the end of May, you probably have little time to read for pleasure. But summer has arrived, and you may finally be able to crack open a new book. You can explore new intellectual terrain, or simply devour a fun beach read. For general-interest book recommendations, we've turned to professors in the College of Arts and Sciences at American University. In edited sections below, they make their pitches for worthwhile additions to your physical or electronic bookshelf.
Professor and Department Chair, Physics
Genius at Play: The Curious Mind of John Horton Conway
By Siobhan Roberts (2015)
John Horton Conway is one of the most famous living mathematicians, and he is renowned for classifying symmetries, discovering new types of infinities, and inventing and studying games, including the enormously influential Game of Life. He is almost as famous for his barefoot, slovenly, eccentric shenanigans. This book, Siobhan Roberts' second biography of a famous geometer, aims at making a general audience understand the beauty of mathematics. Unlike so much popular math and science writing, it doesn't seek to justify Conway's impact by describing applications of his work to solving the world's problems or relating it to new faddish names for old ideas. It lets the drama and art of true mathematical genius speak for itself. If you liked A Beautiful Mind by Sylvia Nasar, check this out.
Instructor, American Studies Program
Redefining Realness: My Path to Womanhood, Identity, Love & So Much More
By Janet Mock (2014)
For summer reads, I like a book that I pick up and don't put down until the last click of my Kindle. I regard it as a bonus if a lighter summer read is well-written and thought-provoking. Redefining Realness by Janet Mock not only is a great summer read, but it also contains powerful messages that I'll be thinking about well into the fall.
I had first heard about Janet Mock's award-winning and bestselling memoir when she came to speak on campus this spring. Mock is a writer by trade, so her words are eloquent and relatable. What I find far more impressive, though, is the courage that she exhibits in sharing her experiences as a trans woman of color. Mock discusses the many barriers that she has faced, while also recognizing her privileges. She is an inspiring role model and activist, yet reminds readers that her story is hers alone. Mock doesn't speak for the millions of people who are marginalized and subjected to violence because of their gender identity. I appreciated that Mock poses the same questions to her readers that she answered for herself. Specifically, she asks, "Who am I, really? How does that answer contribute to the world?" Redefining Realness encourages us to be our most authentic and compassionate selves.
Dean, School of Education, Teaching, and Health
The Alchemist
By Paulo Coelho (1988)
If you've not read Paulo Coelho's The Alchemist, I highly recommend picking it up. On the surface, it's the story of a journey—great for any summertime trip. But on a deeper level, it is a story of searching for meaning in the simplest of things. As the main character evolves over the course of his travels, we see the deeper understandings of what things in life truly hold value and how many things we can leave behind. There is a little magic in the book as well, but there are many ways to understand what actually happens. Every time I've read this book I've been on an airplane, about to take on something that I didn't think I was ready for. This book makes me feel brave. What I also love about The Alchemist is that it is completely up to interpretation. There is no one way to react to the text, and my own experiences with the book have changed every time I've read it.
Assistant Professor, Chemistry
Proof: The Science of Booze
By Adam Rogers (2014)
The Drunken Botanist: The Plants That Create the World's Great Drinks
By Amy Stewart (2013)
Liquid Intelligence: The Art and Science of the Perfect Cocktail
By Dave Arnold (2014)
Summer is that rare season when friends and family stay late into the night and we don't worry about getting the kids to bed on time. There are fireflies to be caught and marshmallows to be roasted, of course. A night at our house is always framed by the food and drink that we prepare. This year, I've decided that I want to learn how to craft a really good cocktail. And, I plan on using our dinner guests as willing guinea pigs.
Because I am a chemist (and because I am utterly captivated by the chemistry that goes on in the kitchen), I tend to turn to "science of cooking" books whenever I want to hone a new skill. There are three books that I have been absolutely delighted with during my cocktail research sessions.
Adam Rogers, an editor at Wired, has written a book that details some general science behind how different kinds of booze are produced. Proof is an exploration of the science (and history) of how various kinds of alcoholic drinks came to be. It is a great first step for me into the craft of the cocktail. The Drunken Botanist by Amy Stewart takes a long sip from the gardens and fields of the world to discuss how certain plants bring character to the drinks that we love. And, finally, Liquid Intelligence by Dave Arnold goes into great detail on the art of crafting a good cocktail. This book, which effortlessly brings up chemistry and physics and statistics in ways that I (a chemical educator) am envious of, is a delight to read from start to finish. Whether you want to make the perfect Manhattan, work on washing your liquor with milk, or try your hand at using a centrifuge, this book captures the playful and intellectual nature of making the perfect drink.
Associate Professor, Literature; Director, Humanities Lab
The Windup Girl
By Paolo Bacigalupi (2009)
The Windup Girl is an expansive novel, full of action and insight and set in a future that is both distant and easily recognizable. In this 23rd century world, genetically modified foods have replaced traditional crops, and this has resulted in worldwide political upheavals. Corporations fight over heirloom seed banks and countries struggle to keep their people safe from new food-related diseases. Conventional fruits and vegetables are all extinct, fossil fuels are over, machines are operated by wind and the muscle power of people and animals, especially elephants and other mega-beasts. The novel's vibrant descriptions of this world will make you so happy to bite into a summer peach or tomato again. But it will also make you aware of how we use our energy sources now, as if we have infinite time and infinite resources. What remains easily recognizable, despite these differences, is the function of political intrigue, war, and injustice, as refugees, migrants, and artificial people fight to survive in this world.
The "windup girl" of the title is an artificial woman named Emiko, abandoned by her owner and now scraping by as an illegal resident in Thailand. She's always endangered and yet always recognizably human in her desire to live. Paolo Bacigalupi's writing is eloquent about the present and hauntingly prescient about the future. His short stories about water shortages in Pump Six, and his latest novel, The Water Knife, strike a new painful chord given the current droughts in California and deluges in other parts of the world.