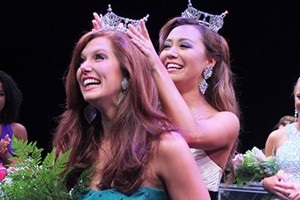 American University alum Haely Jardas had competed several times in the Miss District of Columbia pageant. And after entering this year's competition, she didn't know if she'd ever wear the crown. Yet with her "postmodern jukebox jazz" rendition of Taylor Swift's "Blank Space," Jardas won the talent award. And during the final moments, she gleaned from the judges' mannerisms that 2015 would be different. "They announced the first runner-up, and I looked over in the audience, and all of the judges were just grinning at me. And I was like, 'Oh gosh!'"
As Miss DC, Jardas will compete in the Miss America competition at Atlantic City's Boardwalk Hall in September. Naturally, she's excited and honored to appear on the big stage.
Prolific Performer
Growing up in Fort Myers, Florida, Jardas was a tomboy and beauty pageants weren't on her radar. "Maybe halfway through high school, I remember I was doing a show. And our teacher said, 'Your costume has heels. You have to wear high heels.' And I said, 'What?' So, you start figuring it out," she recalls.
Yet stage performance runs in the family. Her father is a comedian, and he's also worked on the technical side of live theatre. Jardas started doing drama and show choir before attending an arts magnet high school.
At AU, Jardas was a prolific performer, involved in everything from Romeo and Juliet to Guys and Dolls. Cara Gabriel, an assistant professor in the Department of Performing Arts, describes a hilarious, kind, down-to-earth person.
Gabriel directed her in the play Ubu Roi, and she observed how Jardas interacted with other students in an ensemble cast. "She was a very active participant, always contributing ideas. And people listened to her and people liked her. And, of course, she has great ideas because she's so funny and so bright."
At the suggestion of Linda Allison—a musician in residence and eventually her voice teacher—Jardas started competing in Miss DC in 2010. In 2013, she earned undergraduate degrees from AU in theatre and journalism (broadcast).
Advocacy Mission
Each contestant chooses a personal platform, and Jardas's cause is mental health. She's hoping to reduce the stigma attached to mental illness, and she's already working with some Washington contacts on this initiative. For Jardas, this is a deeply personal issue.
During her undergraduate years, she started suffering from extreme anxiety. She'd get panic attacks and had difficulty finishing her classes. At one point, Jardas did what many Americans do: She looked up her symptoms on WebMD and became overwhelmed with sheer terror. "I had convinced myself that I had a brain tumor," she says.
Jardas then talked with a classmate who had suffered from a similar condition. "I asked her about it, and she started describing what it was. And I just started crying, because I knew that's exactly what was going on," she remembers. Her classmate set her at ease, and encouraged Jardas to make a doctor's appointment.
Though Jardas says she'll never eradicate her problems completely, she's learned to manage them. "From what I've found with my experience with anxiety—and all of the stressors and the triggers and the panic attacks that I've experienced—is that I am now a pro at handling stress. I would challenge you to try to freak me out about something," she says.
What it Takes
AU alum Jen Corey won Miss DC in 2009 and subsequently made it into the top 10 at Miss America. In 2010, the year that Corey relinquished her title, she met Jardas. "I told her that night that she could be Miss DC. I saw something in her; she had the personality and the talent," Corey recalls. Corey and Sonya Gavankar, another AU alumna and former Miss DC, have served as mentors to Jardas.
Corey is now a board member of the Miss DC pageant. She says that the criteria for Miss DC and Miss America are slightly different. "For what we look for in DC, we want a really intelligent person. A girl who can hold her own doing appearances in Washington, D.C. with former presidents and ambassadors and members of Congress," she says.
In the current Miss America scoring system, the "beauty" portion—lifestyle and fitness (swimsuit) and evening gown—actually counts for less than talent and the onstage question. That onstage question this year is worth a whopping 20 percent. "What that says to us is that Miss America is looking for someone who can think on her feet, and who can speak clearly in 30 seconds," Jardas says. "These questions are all over the place. They might ask you about Deflategate or Caitlyn Jenner."
Opening Doors
These pageants create myriad career and educational opportunities for contestants. Corey earned $20,000 in scholarship money, which helped pay for her MBA at University of Maryland. She adds, "Every job I've had since I graduated college, I got from someone I met while I was Miss DC." Corey currently works in business development for the McChrystal Group, an Alexandria-based firm co-founded by retired four-star military general Stanley McChrystal.
Jardas is now statehood initiatives agency program manager for the D.C. government. She met her boss, D.C. shadow Sen. Paul Strauss (also an AU alum), when he spoke to Miss DC contestants about statehood. She's considering using her Miss DC scholarship money on a master's degree in communications.
"We'll see where I am at the end of this year. I always think it's funny when I look back at previous plans I've had," she says. "There are just so many people I'm going to meet, and so many doors that are going to be opened." Her career—like her life—may be better off left unplanned.