Athletics
Race to the Finish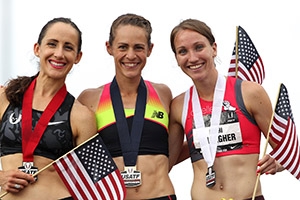 Out of the Blocks
Through countless hours of training, American University assistant track coach Kerri Gallagher pushes herself to the limit. And now she's getting ready for perhaps the biggest race of her life. She's heading to Beijing, China to compete at the IAAF World Championships, which start on August 22. Gallagher is one of four standout athletes representing the United States in the women's 1500 meter.
After finishing third in the USA Outdoor Track & Field Championships in Eugene, Oregon, she qualified for Beijing by hitting the world standard time in Lignano Sabbiadoro, Italy. Her 4:03.56 Italy time was about five seconds faster than her previous personal best.
In an interview last month, Gallagher was overjoyed about her recent accomplishments. "It's been a big year for me," she says. "It was my highest finish at the U.S. championships. So it's been exciting, for sure."
Journey to AU
During her formative years, Gallagher found a way to exceed expectations. A New York City kid, Gallagher dabbled in soccer, swimming, and basketball before discovering track. "Everybody does a little bit of everything when you're young. So I stayed with basketball in high school, freshman year. And I was riding the bench the whole year. I was like five feet tall. And, you know, they took me on the team mainly because I was fast," she recalls. "I got better, but by sophomore year, my mom suggested maybe I should try cross country. And I was a little hesitant; I didn't really want to do cross country. But then I tried it. I said, 'All right mom, I'm not going back if I don't like it.' But, of course, I liked it and I stayed with it."
While attending high school in Brooklyn, her track skills developed and she started to meet with college coaches. Her high school coach was friends with American University's cross country/track & field head coach Matt Centrowitz. Gallagher then took a trip to AU and was completely sold on coach Centrowitz' program. But wanting to stay close to home, she attended Fordham University in the Bronx. She ran the 800 meter during her freshman and sophomore years. Her strength increased, and by senior year, she was running her current specialty, the 1500. Gallagher earned her bachelor's degree in mathematics, with minors in computer science and economics.
She started off working in the financial sector, but fate and initiative drew her back to AU. As detailed in a recent Runner's World profile, she quit her job and came down to D.C. on a bus. She trained with Centrowitz and took a volunteer coaching job, before eventually getting hired as a full-time assistant coach. "I'm actually really happy that I was able to come down here to work with him, because it just kind of solidified that feeling I had four years earlier."
At AU, Gallagher is also earning her master's degree in quantitative analysis, and she's enjoyed both statistics and business courses.
The Long Run
As part of her training regimen, Gallagher usually runs about 12 miles a day, seven days a week. Put in perspective, that amount of mileage over a full year would be like running from New York City to Salt Lake City and back again. And especially during the season, she stays entirely focused and eschews headphones and music during workouts.
"A lot of times I find myself on runs visualizing races coming up. And I don't plan my runs for that, but when those natural thoughts happen, I want to let them happen," she says. "It's a good time for reflection in that way. I'm not trying to distract myself."
So, what makes Kerri run? Unlike that cliché about how you race against yourself, Gallagher admits she's quite focused on the competition. "For me, it's pushing myself to see how good I can be here in the U.S. and even on a world stage," she says.
And she jokes about the need for a quirky personality. "I think runners are all a little bit crazy in a way. You kind of have to be."