International
Skyping the World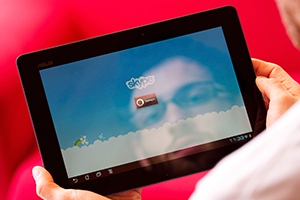 Many American University students study abroad during their junior or senior year. But what if first-year students could try an appetizer before the main course? That's exactly what School of International Service assistant professor John Robert Kelley helped a group of students do in the spring 2015 semester.
First-year AU undergrads set up "virtual exchanges" with students in other countries. Communicating via Skype, Facebook, and other channels, they built bridges across cultural divides and shared common human experiences. An AU student could discover what it's like to be a college student in, say, Japan. In turn, a Japanese student could learn about college life for an AU freshman in Washington, D.C.
"My sense is that it did not feel like a task. They found it fun, and I think they established, through this virtual platform, genuine personal connections," says Kelley.
Getting Started, Exceeding Expectations
After teaching AU students in a University College cross-cultural communication course in the fall of 2014, Kelley implemented an additional research component. In conjunction with the State Department's Bureau of Educational and Cultural Affairs, a virtual exchange program was devised for the spring. Each AU student-participant got a grade and earned one academic credit.
AU students operated in teams based on regions and countries: The AU South Central Asia team interacted with students in India; Europe (Czech Republic students); Western Hemisphere Affairs (Brazil); Near Eastern Affairs (Morocco); Africa (Kenya); and East Asia Pacific (Japan). The participants in those countries were mostly college students and close in age with their American counterparts.
Kelley had been hoping to run a program like this for years, but getting the virtual exchanges up and running is no small feat. The process begins with AU students emailing various colleges in order to find willing partners. But messages sent to unfamiliar colleges in foreign countries can be misinterpreted as spam. Kelley would occasionally follow up with another note to build trust and ensure the AU program's legitimacy. Yet AU students did the legwork, and Kelley was incredibly impressed with their commitment.
"It really exceeded my expectations. And I'll also say that it really convinced me about the validity of the educator as facilitator of an experience, rather than as a dispenser of knowledge alone. It's important for me to advise them along the way. But what I tried to do here was to create an atmosphere where what they got out of it was what they put into it," he explains. "They all just did fabulously well."
Talking Current Events and Breaking Bad
Caroline Sparno, a rising sophomore, explains the process in more detail. Each week they had specific themes to address. One week it might be a social issues talk, and the next week might be focused on current events. "So we kind of developed a greater relationship because we were able to talk about more pressing issues and ideas," she says.
But the conversations could also be fun and casual. "They watched a lot of TV shows that we liked. They watched Breaking Bad," she remembers.
Sparno is earning her bachelor's degree from SIS, with a minor in French. She plans to study abroad in France during her junior year. Yet after her experience doing the Czech Republic virtual exchange, she hopes to visit that country as well. Though the program ended last semester, she still keeps in touch with Czech students. "We catch up every now and again to see how they're doing. And if I do make it to the Czech Republic, I definitely want to look them up when I get there."
A Very AU Conversation
Cameron Cushner, also a rising sophomore in SIS, was part of the team focused on Brazil. It was a nice fit for Cushner, as he's taking Portuguese at AU.
Plenty of front-burner political issues came up during discussions between the two groups. "It was good timing because it was about the same time that protests in São Paulo were going on," he says. "And it was a very AU conversation, you could say. We got into gay rights, race relations—things like that."
Not surprisingly, he says they had a lot in common with their Brazilian counterparts. He remains in contact with his virtual exchange partners through Facebook and WhatsApp, and he's hoping to study abroad through the AU program in São Paulo.
These kinds of opportunities are part of why he came to AU. "I love travelling. I love experiencing other cultures, other foods, other ways of life—especially when it comes to soft power diplomacy," Cushner says. "So, I felt like this virtual exchange was a great start."
Agents of Change
In his book, Agency Change: Diplomatic Action Beyond the State, Kelley explored how non-state actors can solve problems and wield influence in international relations. He says virtual exchanges exemplify this process. "What we're doing here is diffusing the representative of a state, of a culture, of a nation, down from the official level to the popular level," he says.
Older techniques involved sending students abroad to promote U.S. national interests, but this is now evolving into more of a dialogue, he says. And it's fundamentally different from diplomat-to-diplomat contacts. "I think what you're getting is a more honest conversation this way. It's not talking points," he says. "It is legitimate, genuine, honest, unfiltered, unadulterated expression, between citizens who don't have a skin in the game of politics."
And, as Sparno attests, communicating overseas through technology doesn't have to be cold and impersonal: "It was more than just talking back and forth, and making videos. It really felt like you were there. And you learned so much from people on the other side, and I can call them my friends now."