In the Community
11* Reasons to Check out AU Night at Nationals Park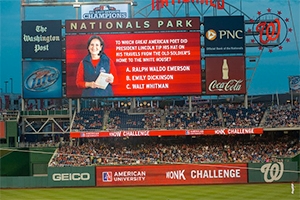 1.   AU Pride and Signage. For the uninitiated, you'll be surprised by just how omnipresent American University is the entire night. All over the stadium, there will be AU signage with brightly-lit, red and blue colors.
2.   Free T-Shirts. Oh, and another way that AU is represented? The AU-Nats T-shirts, which the first 25,000 fans into the stadium can get for free.
3.   Wonk Showdowns. On the big screen, you'll get to watch "Wonk Showdowns," with AU professors and graduate students asking trivia questions to competing fans. It isn't an AU event if we aren't testing our knowledge, right?
4.   Clawed Z. Eagle. AU's lovable mascot will work the crowd, both in the stadium and on the field. In 2014, Clawed proved to be quite photogenic, with AU freshmen flocking to take pictures with him.
5.   Treble in Paradise. The AU a cappella group Treble in Paradise knocked it out of the park last year with their rendition of the national anthem. A YouTube clip of this got 488 likes and 63 shares on Facebook. They're back this year for an encore performance.
6.   Alumni Presence. There will be a picnic for alumni inside the stadium, starting at 5:30 pm. Per tradition, a member of the AU community will throw out the first pitch. This year it's D.C. Council Chairman Phil Mendelson (SPA/BA '81).
7.   Introduction to AU. It's a special night for incoming freshmen and a great way to make new friends. There will be a pre-game, All-American Barbeque for students from 4:30 to 6:30 pm on the Friedheim Quad. Shuttle service to the metro will be provided for people heading to the game.
8.   Food! You'll also have plenty of great meal options at Nationals Park. You can have D.C. mainstays, such as Ben's Chili Bowl, or hot upstarts like Shake Shack. Inside tip: try Box Frites, a terrific Belgian-style fries' joint.
9.   Discover Washington. By mid-semester, there's less time to explore the city. But for freshmen in August, this is a nice opportunity to get the D.C. bug and become Washingtonians.
10.   Bryce Harper. He is one of the most talented, electrifying players to come along in a generation. And if you come on Friday night, there's a decent chance that you'll watch him smash a baseball very, very far.
11.   This Game Matters. The Nats are fighting for their playoff lives and trying to catch up with the first-place New York Mets. Every game matters from here on out. So come watch the Nats, and you might just witness a little Washington, D.C. sports history.
*The number of Ryan Zimmerman, the longest-tenured player on the Washington Nationals.
The game is this Friday, August 28, against the Miami Marlins. Tickets are available at nationals.com/tickets. For the AU discount, just enter the code WONK in the coupon section.