Research
AU 2030: Erdal Tekin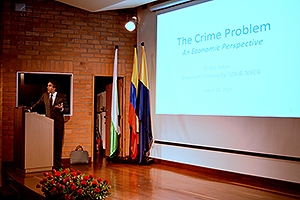 Analyzing Risky Behaviors
People engage in risky behaviors every day. It's both a human impulse and a consequence of living in a free society. But there's a communal cost to such behaviors, and Erdal Tekin has spent many years studying the causes and consequences of them.
To understand the implications of risky behaviors, Tekin has examined smoking, overeating, crime, and illicit drug use. "Many of these behaviors have consequences for the lives of others. That brings us to the role of policy. These are preventable behaviors, and they impose enormous costs not only on those who engage in them, but everybody else in society as well," he says. The U.S. spends roughly 17 percent of its GDP on health care, and Tekin says these risky behaviors comprise a significant portion of that figure.
Tekin is a professor in American University's School of Public Affairs. His work is germane to the AU 2030 "health, risk, and society" field. And he has authored some eye-opening research over the years.
Case Studies and Consequences
Many Beltway area residents still quiver at the memory of the 2002 sniper shootings. In a study, Tekin and SPA colleague Seth Gershenson uncovered how those fears had an adverse impact on the community. Using data from the standardized test scores for all Virginia schools, before and after the shooting incident, they compared the performances of students attending schools located near one of the shooting sites to proficiency levels of students attending schools farther away from the shooting sites. They found that students attending schools within a five-mile radius of one of the shooting sites performed significantly worse that year.
Tekin says a number of factors might explain this finding, such as school absenteeism and poor academic performance due to a lack of focus associated with anxiety. "Students may have been stressed out. Parents may have been stressed out," Tekin says.
Another piece of research dealt with the controversial "Stand Your Ground" gun laws that allow shooters, if they feel a threat is imminent, to use lethal force without having to retreat first. Tekin and his colleague and former student, Chandler McClellan, examined the 18 states that had these laws on the books, and they found that—after accounting for all other factors—Stand Your Ground laws led to increases in homicides and hospitalizations due to gun-inflicted injuries. "Emboldening people, and allowing people to use deadly weapons in even simple altercations, can lead to more homicides," he says.
From Engineering to Child Care Policy
Tekin hails from Turkey and grew up in Izmir, a resort town on the coast of the Aegean Sea. He earned his bachelor's degree in engineering, but he soon realized his interests lay elsewhere. "I didn't want to do electronics engineering. I wanted to do something that has to do more directly with human life. But I also didn't want my quantitative skills to go wasted," he says.
He came to the United States and earned his master's degree in economics from the University of Colorado Denver, where he got exposed to research on the impact of child care subsidies on parental employment. While Tekin earned his Ph.D. from the University of North Carolina at Chapel Hill, he was an assistant to David Blau, a leading child care policy scholar. In 2002, Tekin was invited to join the prestigious National Bureau of Economic Research (NBER) in Cambridge, Mass. He still serves as a research associate at NBER, and he credits the organization with solidifying his focus on health care issues.
Through his studies, Tekin concluded that U.S. child care policy was quite different from other industrialized nations in ways that may undermine the well-being of children. Whereas European countries have emphasized quality care, American child care policy was aimed at ensuring that parents met certain work requirements. That U.S. model helped forge bipartisan support for the landmark 1996 welfare reform law, but Tekin felt the policy was problematic for children—even if it led to an increase in employment among economically disadvantaged populations.
"The U.S. policy emphasizes so much on employing parents, and employing them so quickly, that there are relatively few regulations or requirements for the type of quality for which these subsidies can be used. In a way, the child care system works as an employment program," he says. Yet Tekin says this is evolving, with an increasing number of states now imposing stricter quality standards.
Pursuing Evidence-Based Solutions Around the World
Tekin travels to many countries in pursuit of data. That's because if he wants to find empirical evidence of a particular topic, he'll go wherever the data takes him. "For example, administrative data is not easy to get in the U.S. But in Scandinavian countries, you can get access to people's daily medication records going back many, many years. You can get access to people's crime records," he explains.
Tekin takes trips to work and see family in Turkey. Even in Washington, he's stayed connected to his roots. His wife is a Turkish-American who grew up in this area, and they frequently attend local Turkish events. Tekin sometimes offers advice to native Turkish students looking to study in the U.S.
Before joining AU, Tekin was a professor at Georgia State University. Even then, he frequently visited Washington D.C. to attend meetings and visit family and friends. "D.C. has always been on our minds, and I was looking for the right academic opportunity to have a permanent house here. And the opportunity came last year, and we jumped on it."