Journalism
Voice of Hispanic America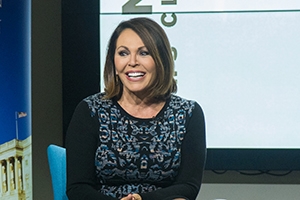 In the world of journalism, María Elena Salinas is a pioneer. As a veteran co-anchor of Noticiero Univision, she's reported on the remarkable rise—and growing political power—of Hispanic Americans. She's interviewed presidents, dictators, celebrities, and "dreamer" immigrants. Salinas reported from war-torn Iraq, and she's covered natural disasters in Haiti and Oklahoma. Overall, she's racked up six Emmys, a PEABODY, and was the first Hispanic woman to receive a lifetime achievement award from the National Academy of Television Arts and Sciences.
Needless to say, Salinas is worth listening to, and she made a special appearance at American University on Monday night. At the School of Communication's McKinley building, she discussed immigration, the Latino vote, the 2016 election, and diversity in media. Carolyn Brown, an assistant professor in SOC, moderated the discussion. The main sponsors were SOC, the Center for Media & Social Impact, and the Kay Spiritual Life Center-Poynter Lecture Series.
Immigration and the Latino Vote
Brown went straight to the biggest news of the moment. "In the wake of the Paris terror attacks, how do you think the immigration debate here in the U.S. may or may not shift?" she asked.
"I think it's already shifted, unfortunately," Salinas replied, noting that many states have vowed to close their doors to Syrian refugees.
In a follow-up, Brown asked how comments by Donald Trump and other presidential candidates may have affected the Latino community. "In all walks of life, we see Latinos contributing to this country. That image of Latinos, and the importance that Latinos have in this country, I think, was hurt by the comments of Donald Trump saying that immigrants from Mexico are criminals," Salinas said. "Then it united the community, because suddenly we were all Mexicans. Suddenly, everyone felt, 'If you insult an undocumented immigrant, you're insulting all immigrants.'"
Salinas added that three out of four Hispanics in this country are U.S. citizens, and many of them will vote on immigrants' behalf. Polls show that Latinos prioritize education, the economy, and health care, she said. Yet what "motivates them to go out and vote is the immigration issue—because it is a matter of respect."
Journalism, Advocacy, and Equality
Brown said the word "advocacy" often gets attached to Spanish-language media, and she asked if those news outlets cover the immigration debate differently than English-language media.
"Advocacy journalism sometimes is referred to with a negative connotation," Salinas said. "I think just about everyone advocates for something. The minute that you are choosing to cover one issue over another issue, you're advocating for that one issue. I don't think that we necessarily practice advocacy journalism in that way. But I think all of us who work in Spanish-language media, up to a certain point, do have a social responsibility to our community."
Later on, a student asked what challenges she's faced being a Latina journalist. Salinas said that as the Hispanic population has grown, networks such as Univision have gotten better access to U.S. leadership.
Yet as a woman, she still faces obstacles. "Latinas still have to work twice as hard to get half of the recognition that men do. But the good news is that we can."
Between Abandonment and Rejection
The audience watched a clip from Salinas's 2014 documentary on Central American children seeking asylum in the U.S. It's called "Entre el Abandono y el Rechazo" (Between Abandonment and Rejection). "This was really a humanitarian crisis. And we thought it was very important to go to the root of the problem," Salinas said of her award-winning special. She did raw reporting from Guatemala, Honduras, and El Salvador, as well as both sides of the Texas-Mexico border. "These kids feel like they are abandoned, either by society, by their government, by their parents."
Asked what was the toughest part of making this documentary, Salinas gave a heartfelt answer. "They say that there's an unwritten rule for journalism that you should never get emotionally involved in the story. But it's very hard not to get emotionally involved in the story when you see so much human suffering," she explained. "When you give that kind of story a name and a face, I think everything changes."
Making an Impression
Salinas had a nice rapport with the students, and she took a group selfie with much of the crowd after the event. One of those students in attendance was her daughter, Julia, who is currently an AU undergraduate.
In interviews afterwards, two sophomores talked about Salinas's empowering message. And while growing up, both students frequently watched Salinas on TV.
"I knew I had to make it here no matter what. I left work an hour early, and I was like, 'I need to go to this!'" said Angie Trindade. "It's incredible that since she was so much a part of my life growing up, that I get the chance to hear her speak now in person."
Janelly Gonzalez is on the pre-med track, and she said the Salinas appearance inspired her to improve health care systems. "And I know that I'm not alone. Seeing this room full of people coming together makes me realize that other people want to change the Latino community," she said. Gonzalez was particularly struck by something Salinas said about political activism: "Doing nothing is not an option."