On Campus
Inspiring Graduate Stories: Zach Blaifeder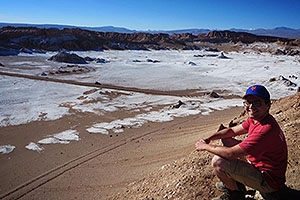 Zach Blaifeder will graduate from American University this month, with his family on hand for the commencement ceremony. He's earning his bachelor's degree in political science from the School of Public Affairs and international studies from the School of International Service.
Like many students, this is the culmination of some fine work he's done at AU. When he came to AU three and a half years ago, this was very much a fresh start. He suffered through a debilitating childhood illness, and much of his life was filled with pain and discomfort.
"I just didn't want to let it get in the way of my life. And I don't think I did let it get in my way. Obviously, it hindered me a little bit, and it really did get to the point where it was pretty bad. But I still made it work," says Blaifeder now.
Battling Illness
While many men get their first colonoscopy in their early 50s, Blaifeder had to have one in fourth grade. He was diagnosed with ulcerative colitis, an inflammation of the large intestine that causes excessive diarrhea, blood in the stool, and fatigue. Growing up in Wayne, New Jersey, Blaifeder struggled with this disease, often having to go to the bathroom 10 times a day.
But he tried to maintain some semblance of normalcy, working hard in school and playing basketball and baseball. In seventh grade, he had his second colonoscopy. "At this point, I was telling my doctors, 'Oh, I'm fine, I'm fine.' But the bloodwork was saying otherwise," he says. He was given the choice of getting surgery or taking a medication called Remicade. He opted for the medication, but his problems persisted.
Every month, he would go to the hospital for medication administered intravenously and frequent bloodwork. During one of those trips, his condition set off alarm bells at the hospital. "The doctor said, 'We're not letting you go, because your hemoglobin levels are dangerously, dangerously low, and you need a blood transfusion right away,'" he recalls.
Blaifeder doesn't know what might have happened without that emergency medical attention. But he says that extremely low hemoglobin levels can be life threatening. He had his first surgery in December 2011, and his second surgery was in July 2012—the summer before he came to AU. That second operation led to a protracted period of fatigue and weakness. "It knocked me out. I felt like I got run over by a truck," he says.
"There were definitely frustrations. And I think one of the reasons why I opted to have surgery my senior year of high school was because I knew if I didn't get it done at that moment, my experience in college would have been drastically different," he says.
Recovery and Revival
Sure enough, he started to feel better during his first semester here. "I get to AU, and it's really this newfound look at life, just because I don't need to be concerned about the bathroom anymore. And there were definitely things that I was more free to do," he says.
Early on, as part of the University College program, he went on a walking excursion from campus all the way to Theodore Roosevelt Island. "I wouldn't have been able to do that. Or, maybe I could have done it, but I would have had to bring a change of clothes, would have had to find a bathroom halfway through," and probably couldn't have eaten anything, he says.
As he settled into campus life, he took advantage of everything AU and Washington, D.C. had to offer. He joined College Democrats, and he was part of both Eco-Sense and Fossil Free AU. Blaifeder also has a longstanding interest in Jewish issues, getting active with Hillel and AU Students for Israel. Through the David Project, he was an AU Jewish representative who accompanied three non-Jewish students to Israel.
One high point was studying abroad in Santiago, Chile. That's another adventure he probably couldn't have undertaken while battling ulcerative colitis, he says. He lived with a host family, traveled to other parts of Chile, and visited neighboring Bolivia and Peru.
He's also filled up his time with internships. Blaifeder was a fellow with the American Jewish Committee, as well as an intern at the Democratic Congressional Campaign Committee and a state senate campaign in Maryland. Despite Blaifeder's Democratic leanings, he worked for his hometown Republican congressman, U.S. Rep. Rodney Frelinghuysen of New Jersey.
Marching Forward
Blaifeder is hoping to carve out a career in public policy. "I really value helping people and making people's lives better," he says. And his life is better now, too. Even his favorite baseball team, the New York Mets, made it all the way to the World Series this year.
He recently participated in the Macy's Thanksgiving Day Parade. As he looks toward the future, this experience was also a nod to honoring and conquering the past. He'd had his surgeries at Long Island Jewish Medical Center—which is about an hour from his New Jersey house. So his parents stayed at a nearby Ronald McDonald House, giving them greater proximity to their son amidst a trying time.
Since the Ronald McDonald House had sentimental value, Zach's family joined with some 80 other people in holding the Ronald McDonald balloon through the streets of Manhattan. It was a beautiful, clear day, and a long walk worth taking.